Victory is his! 'Family Guy' creator Seth MacFarlane to host 2013 Academy Awards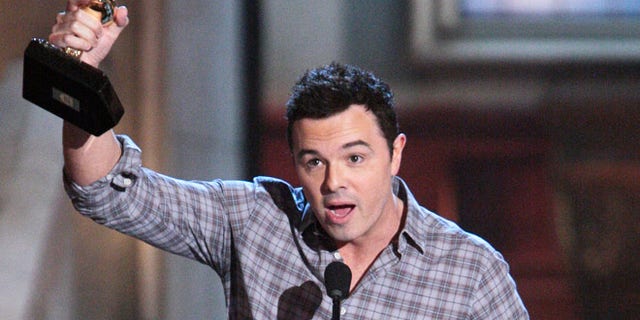 The guy behind Stewie and Peter Griffin is hosting the 2013 Oscars?
Yep.
Seth MacFarlane will host the 85th Academy Awards, its producers announced Monday.
"We are thrilled to have Seth MacFarlane host the Oscars. His performing skills blend perfectly with our ideas for making the show entertaining and fresh," producers said in a statement. "He will be the consummate host, and we are so happy to be working with him."
The gig is MacFarlane's first appearance on Oscar's stage, and the first time he has hosted a big telecast of any kind (not including the Comedy Central roast of Charlie Sheen).
His recent successful hosting the season premiere of "Saturday Night Live" may have helped producers make the unconventional decision.
"It's truly an overwhelming privilege to be asked to host the Oscars," said MacFarlane. "My thoughts upon hearing the news were, one, I will do my utmost to live up to the high standards set forth by my predecessors; and two, I hope they don't find out I hosted the Charlie Sheen Roast."
This is a big year for MacFarlane, who had his first big-screen success with the raunchy comedy "Ted." He also released an album of jazz vocals, and is known for writing songs for "Family Guy" as well, skills that should prove valuable in fleshing out musical numbers for the awards show.
The Oscars will be broadcast live on Sunday, February 24.