Uncomfortable meeting for feuding exes Taylor Swift, John Mayer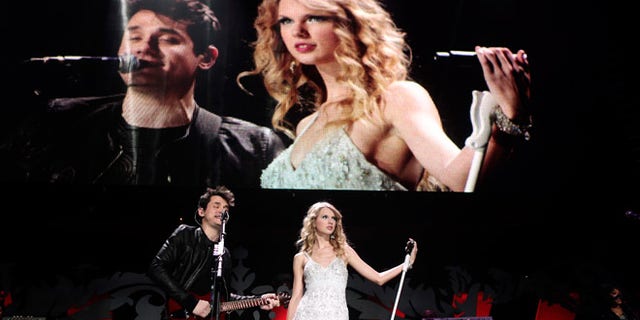 The feud between John Mayer and Taylor Swift nearly came to a head at West Hollywood's starry Tower Bar when the ex-lovers unexpectedly and uncomfortably came face-to-face.
The confrontation Tuesday came after Mayer told Rolling Stone this week that Swift's song "Dear John," reportedly about him, was "a really lousy thing" to do, "cheap songwriting," humiliating and "bullsh*t."
Swift, 22, entered the Tower Bar at Jeff Klein's Sunset Tower Hotel, and a witness described it as "drama central" when the blonde superstar was about to be seated and noticed that her onetime beau Mayer, 34, was dining with a friend nearby.
[pullquote]
The source said, "Taylor very visibly -- in front of the entire restaurant -- demanded to be moved to the other side. The bar's usually an oasis of calm and privacy for celebrities and power players, but this was drama central."
Swift and Mayer were briefly linked in 2010 before she released her poison-pen ditty "Dear John" -- with the lyrics, "You are an expert at sorry/and keeping the lines blurry." She never confirmed it was about the notorious ladies' man.
But Mayer, who publicly bashed ex-lovers from Jessica Simpson to Jennifer Aniston, said in Rolling Stone, "I never did anything to deserve that [song]. It was a really lousy thing for her to do ... I know she's the biggest thing in the world, [but] that's bullsh*t."
Has Mayer never heard of karma?