They're back! Pitt, Jolie engagement re-energizes tabloid tales of Aniston angst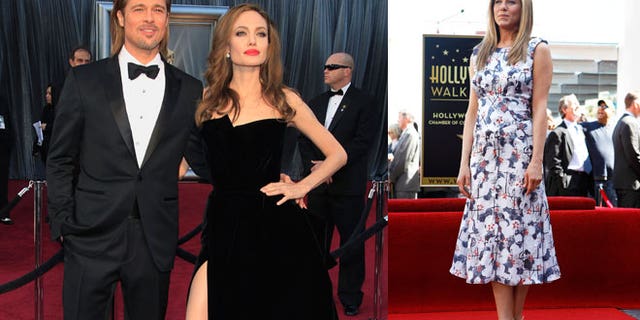 LOS ANGELES – If you thought the whole "Brad Pitt + Angelina Jolie + Jennifer Aniston" tabloid love triangle was finally starting to die a natural death, brace yourself.
The tabloid trinity has found a new lease on life in the wake of Pitt and Jolie's engagement announcement.
It took less than 24 hours following Friday's news for gossip sites to blow up with bold proclamations by "insiders" that Aniston was so very "happy" for her ex-husband that she may even attend the wedding. These were followed by reports that had already made arrangements to fly his former flame to the ceremony. Unless you believe others who counter that Aniston is "miserable" over the news. Or those who say Jen is pregnant. With twins.
Yes, the feeding frenzy has begun, despite the fact that Brad and Jen's five-year marriage ended some seven years ago, and that the former "Friends" star is in her own happy, long-term relationship with actor Justin Theroux.
Former tabloid editors and gossip watchers tell us to expect the intensity of this bizarre saga to get worse now that Jolie and Pitt are headed down the aisle. You can look forward to headlines about fights over guest lists and wedding details; the ceremony being called on and off again; talk of secret elopements; Aniston's raging jealously; a race to the altar between two budding brides; and much, much more.
[pullquote]
"The Brangie-Jen stuff won't die out as much as it will evolve," Justin Ravitz, Senior Online Editor at UsMagazine.com told FOX411's Pop Tarts column. "This engagement news just changes the terms of the triangle/quadrangle. When will Brangie actually wed? How lavish, unique, epic, casual will the wedding be? How will it compare to Jen and Brad's? How will dresses compare? When will Jen and Justin get engaged and married and how will that compare? Will Jen get pregnant or adopt? Just a million more iterations to pit everyone against each other."
Maxine Page, executive editor of RadarOnline.com, who has worked for an array of tabloids including The Globe, In Touch, Star and Life & Style, also suspects the engagement news will spark a whole new slew of triangle stories.
"What is interesting to me is how Jen ultimately deals with the news... If she does announce her own plans to wed anytime soon people are going to accuse her of trying to grab Brangie's steam... Kind of sucks for poor old Jen," Page said. "I think people love the whole Angelina/Brad/Jen saga because it reads as such a juicy soap opera – full of intrigue, drama, back stabbing and man grabbing ... plus, it helps that all parties are gorgeous, and Angie is such a 'bad girl' and Jen such a 'good girl.'"
According to media and publicity expert Glenn Selig, the Brangelina engagement will indeed escalate speculation.
"As long as Jennifer Aniston remains (unmarried) the story line is just too juicy for the tabloids to drop – true or not," he explained. "Of course it is pathetic. It's a real life soap opera, even if it is as fictional as the daytime soaps. But it sells magazines because the public loves gossip, and as long as that continues to be the case, I suspect the story will not only live but thrive, even if there's no truth to it."
Amelia Parry, editor of the pop culture site TheFrisky.com, concurred that the ongoing saga is "inevitable," but that doesn't mean she's into it.
"I sure hope this doesn't turn into a continuation of Jolie vs. Aniston in tabloids, but alas, I think it's inevitable," she added. "Personally, I'm so bored by it. Jolie and Pitt have been together longer at this point than he was with Jennifer. And Jen has had, like, three major relationships since. Let's move on – they have!"
Wishful thinking.