'The Waltons' star Mary McDonough: I was 'starving' myself to fit in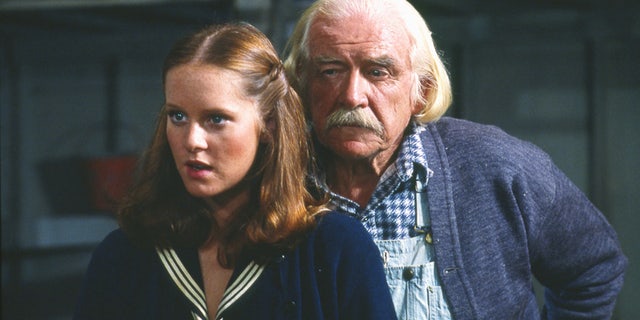 NEWYou can now listen to Fox News articles!
Mary McDonough may have found fame as Erin in the hit 1970s series "The Waltons," but success came with a price.
The now 55-year-old actress, who first joined the show at age 11, appeared on the British program "Loose Women" Tuesday alongside her co-star Michael Learned, revealing that she was told she was too fat for television.
'DIRTY DANCING: HAVANA NIGHTS' STAR SAID SHE WAS BODY SHAMED
"Erin was supposed to be the pretty one, so there was a lot of pressure for me to look a certain way and weigh a certain amount," explained McDonough on appearing in the TV drama about a Depression-era family living in Virginia's rural Blue Ridge Mountains.
"I created a body image issue for myself — a lot of radical diets and starving and trying to fit in and be perfect, until I realized there is no perfection is that way."
Still, McDonough has fond memories of her TV family and even declared that shows today just don't compare because they often lack "a sense of family and community."
FOLLOW US ON FACEBOOK FOR MORE ENTERTAINMENT NEWS
"I think that it's something that has been missing in the world, and especially lately," explained McDonough. "They're missing a sense of family and community and coming together as an extended family. Everybody can relate to it. They either wanted that family or they had that family."
"The Waltons" ran for nine seasons from 1972 to 1981. Since it finished, McDonough appeared in several films and TV shows, including "Ally McBeal," "The West Wing" and "Will & Grace," among others.
Learned, who played McDonough's TV mom Olivia Walton, previously told Fox News that she considers her former cast-mates as her second family and sometimes even regrets leaving the show early in 1979.
"Yes, there's been times when I've regretted it only in that it probably would have been better to complete the whole show," said the now 78-year-old actress. "But frankly, when John-Boy came back with a new face and a new voice, it was like something happened. I just couldn't do it anymore… and also, I felt a lot of the times I was sitting around for 14 hours saying, 'More coffee John.' The fact is, I was bored. And I thought I had enough money, which wasn't true."