'The Walking Dead' Season 9, Episode 5 recap: What happened to Rick Grimes?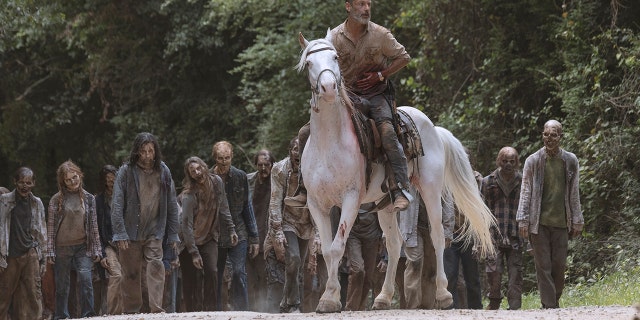 WARNING! Do not proceed if you haven't watched Sunday's episode of The Walking Dead! For everyone else, get your Sheriff's hat on and let's get started!
So, Rick's not dead.
Sunday's episode of "The Walking Dead" marked the last time we'll see Rick Grimes in action, after Andrew Lincoln revealed at San Diego Comic-Con that his time on the show had come to an end. But while fans were preparing for a death even more emotional than the time we had to say goodbye to Noah, or Hershel, or Glenn, or Sasha, or Tyreese, or Carl (we could go on), instead, Rick left the show alive. He was clinging onto life in a helicopter, but still, he was alive.
Rick began the episode impaled by rebar, but thank god he wore a belt that day, because it's the only thing that saved him from getting eaten alive by an approaching herd of Walkers. With some quick thinking, Rick was able to use his belt to lift himself up and out of the metal rod sticking through his midsection. He made his way to the horse that did him wrong (we know it was a full-circle moment, but still), and headed off on a physical and mental journey to the bridge.
'The Walking Dead': What to Expect From Andrew Lincoln's 'Curve Ball' Final Episode (Exclusive)
Throughout his trip, Rick kept falling asleep, which proved dangerous considering that he was losing a lot of blood, and zombies were no more than a few yards behind him. It did, however, provide the opportunity for a few cool hallucinations, including a throwback to his hospital days, as well as a visit from Shane, Hershel, and Sasha.
He eventually reached the bridge he and several communities had been building since the start of the season, convinced that it wouldn't be able to hold the weight of the trail of Walkers following him and they'd meet their demise. That wasn't the case, so Rick decided to blow the whole thing up, just in time for Maggie, Michonne, Carol and Daryl to watch in horror as he sacrificed himself for their safety.
But then came the plot twist: Jadis, who had been communicating with the mysterious helicopter group via walkie-talkie, found Rick downstream on the verge of death and decided he was worth saving. "You're still here. You're going to be OK. We're going to save you," she whispered to our leading man, as he was whisked away to an unknown land with presumably excellent health care.
'The Walking Dead': Past and Present Stars Say Emotional Goodbye to Andrew Lincoln Ahead of His Final Episode
That's where Rick's story ended, but the Grimes family line was still alive and kicking. Flash forward a few years, and Rick's daughter appeared to be following in his (and Carl's) footsteps. "Judith. Judith Grimes," she introduced herself after saving a new colony, before placing the iconic Sheriff's hat on her head.
Norman Reedus teased fans would be in for a big surprise while speaking to ET at the show's season nine premiere. "I thought it was really well-written," he said. "This show has a way of throwing you a curve ball at the last minute, I'm just going to say that."
"I think [fans] are going to be very surprised," Melissa McBride added. "They're going to be proud of him."
'The Walking Dead': One Character Loses an Arm -- How It Pays Tribute to Rick Grimes (Exclusive)
Lincoln, meanwhile, told ET that he was much more concerned with how he was going to get to that endpoint. "I think it was about day two of filming and I asked Greg Nicotero, who was shooting the episode, 'How many pints of blood does a human actually hold? Because I'm not sure I'm going to make it through the credits sequence,'" he said.