'The Big Bang Theory' recap: Sheldon's 'Batman' birthday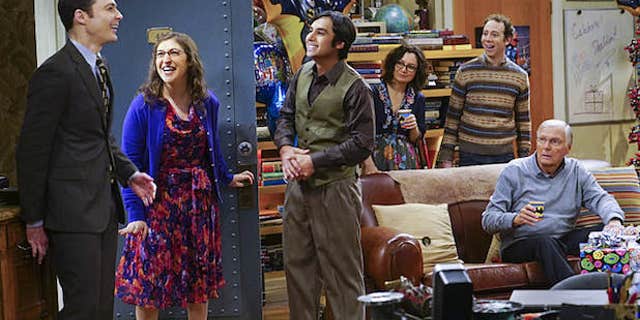 Batman finally came to Sheldon's birthday party!
Adam West — TV's original caped crusader — made a special guest appearance on this week's special 200th episode of "The Big Bang Theory."
The actor, 87, used the opportunity to poke fun at the string of Hollywood A-listers who have subsequently brought the superhero to the big screen.
"Even my poodles know [Christian] Bale is overrated," he tries to convince Raj, Howard and Leonard, while ranking the actors he believes played the role best.
"It should be me, [Michael] Keaton, [Val] Kilmer, Lego Batman, Bale…and that pretty boy [George] Clooney.
"I never had to say, 'I'm Batman.' I showed up and people knew I was Batman.'
"The Celebration Experimentation" brought the gang to gather in honor of Sheldon's birthday.
He's always been uncomfortable celebrating the annual milestone — at least since his twin sister and her friends falsely promised Batman would show up at a party on the day he turned six.
But Amy wants to pay her man back for making her own big day so special. (We all remember what happened the night Sheldon blew off the opening night of "Star Wars!"
So Sheldon agrees to be feted — albeit with a few small conditions: "Mylar balloons, yes, latex balloons, no. Water balloons, I will jump off the roof and aim for your car," he tells Amy.
And when it comes to the writing on the cake? "Make sure it's not in all caps. I don't need my dessert yelling at me."
So the guys hatch a plan to help their friend finally meet the Dark Knight himself. They pool their money and hire West to attend Sheldon's party.
At first, the birthday boy is uncomfortable with all the attention and retreats to the bathroom. But eventually, he returns to be toasted by those closest to him.
Amy: "I know it's customary for the birthday boy to receive presents, but I feel like I got the greatest gift the day he was born."
Will Wheaton: I know that we've had our ups and downs, but I can honestly say that my life is so much more interesting because you are in it. We may have met because you a fan of Star Trek, but I have become a fan of Sheldon Cooper. Live long, and prosper, buddy."
And, of course, Leonard: "You make me laugh, you make me a better scientist, you make me crazy … you are more than just my roommate. You're my brother."