VMAs 2019: Taylor Swift wins top honor, calls out White House in acceptance speech
Taylor Swift called out the White House after she won the 2019 MTV Video Music Awards' top prize — video of the year — for her LGBTQ pride anthem, "You Need To Calm Down."
The "Lover" songstress opened the show at the Prudential Center in Newark, N.J., with a performance of the hit song. Swift was flanked by colorful dancers, then brought it back to her roots by bringing out her guitar to sing the title track of her new album "Lover."
TAYLOR SWIFT KICKS OFF VMAS RED CARPET IN STYLISH POWER BLAZER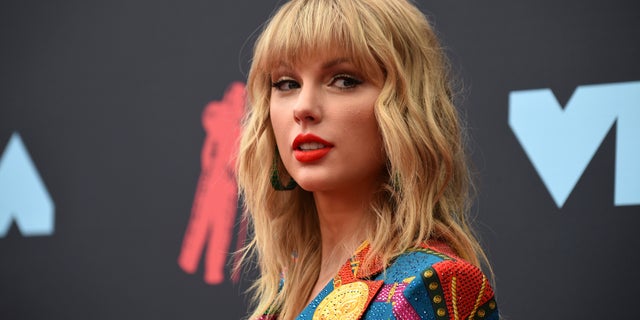 The words "Equality Act" were shown over the 29-year-old pop star's performance, a reference to her support of the Equality Act legislation that would prevent discrimination based on sexual orientation and gender identity.
After winning the top prize, the 29-year-old pop star and a number of cast members from the video appeared onstage to accept the honor.
TAYLOR SWIFT PLEDGES TO 'DO EVERYTHING I CAN FOR 2020' ELECTION: 'WE'RE A DEMOCRACY'
"I just want to say that this is a fan-voted award. So, I first want to say thank you to the fans because in this video, several points were made, so you voting for this video means that you want a world where we're all treated equally," Swift said.
She continued: "Regardless of who we are, regardless of how we identify, at the end of this video there was a petition -- and there still is a petition for the Equality Act, which basically just says we all deserve equal rights under the law.
"And, I want to thank everyone who signed that petition because it now has half-a-million signatures, which is five times the amount that it would need to warrant a response from the White House," added Swift while accepting the award. She then looked down at her wrist and tapped on it, seemingly referencing a watch.
The video for "You Need to Calm Down" -- which also won the video for good honor -- finishes with the words: "Let's show our pride by demanding that, on a national level, our laws truly treat all of our citizens equally." Before the video's release, Swift announced that she supported the Equality Act.
TAYLOR SWIFT'S TRANSFORMATION FROM COUNTRY SINGER TO POLITICAL ADVOCATE
Earlier in the show, Cardi B's "Money" won the Best Hip-Hop award — the first televised award of the night.
"I can't hear myself," she said as fans chanted her name. "Let me do my speech now." The 26-year-old rapper went on to thank Jora Frantzis, who directed her "Money" clip, as well as her glam team.
While presenting Best Latin Music Video, Alison Brie and French Montana put a spotlight on immigration activism: "I'm so proud to pronounce this award because as an immigrant I feel like we are the people that make his country, and I feel like I want to be a voice," Montana said.
Added Brie: "What's happening to immigrants in this country is unconstitutional and frankly disgusting."
Missy Elliott proved why she's one of the best and innovative rappers of all time with an incredible medley of her most famous songs and music video looks from the black puffy bag dress for "The Rain (Supa Dupa Fly)" to camouflage for "Get Ur Freak On."
The Grammy-winning rapper, who made a triumphant return to the VMAs for the first time since 2003, was backed up by a talented group of dancers for songs like "Work It," and "Pass That Dutch" and "Lose Control."
Holding her Michael Jackson Video Vanguard Award, she said she would try to hold back the tears, but the award meant so much to her.
She thanked Janet Jackson, calling her an inspiration for her music videos, along with Madonna and Busta Rhymes, and said she missed singer Aaliyah, who died 18 years ago in a plane crash.
She dedicated the award to the dance community as her dancers erupted behind her, saying, "Y'all are the icing on the cake, y'all are the beat to the heart."
Fox News' Jessica Napoli, Julius Young and The Associated Press contributed to this report.