Sylvester Stallone Proud to Be Among 'Ugliest Group of Guys' in 'The Expendables'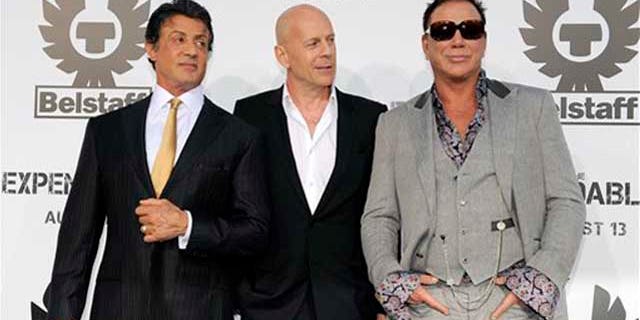 Known as one of Hollywood's biggest action heroes, Sylvester Stallone is heading back to the big screen with a new take on the classic action genre.
"The Expendables," co-written and directed by Stallone, gathers some of the biggest names in action from the past two decades, including Dolph Lundgren, Jet Li, Mickey Rourke, Steve Austin and Bruce Willis.
The action thriller, which hits theaters on Aug. 13, is about a team of highly trained – and very dangerous – mercenaries who are sent to South America to overthrow a ruthless dictator.
Fox411 caught up with the cast at the premiere in Hollywood to discuss the film and even how "ugly" and "proud" they are.
"I thought we had the ugliest group of guys on the planet in one movie," says Stallone of his castmates. "That is what I am so proud of. We all look like horseshoes or catchers mitts."
People go, 'wow, that is a sexy group of guys,'" he joked. "And I say, 'excuse me, you're talking about the "Twilight" team, not us.'"
But Mickey Rourke doesn't take Stallone's insults to heart. "He is very competitive," Rourke explains of his director and co-star. "He is competitive [even] with himself. He keeps challenging himself and reinventing himself. I think that is something you have to do if you want to survive [and] have longevity."
Stallone, 64, achieved critical acclaim back in 1976 with "Rocky." And as he revealed to us, the film also taught him that being an action hero isn't just about great acting skills; it's also about being able to withstand a few bumps and bruises.
When it comes to injuries on set of "The Expendables" Stallone admits, "I knew that going in that it was going to happen. It happened a lot on "Rambo," it happened a lot on "Rocky" - it's just the nature of [it]."
But although he expected to get hurt, it doesn't mean he likes the pain. "I wish it did not happen," he says. "But it's going to happen when you do physical encounters and you really throw yourself into it. That's the price you pay."
Stallone's co-star from "Rocky IV" (1985), Dolph Lungdren, 52, likes the homage that this film pays to '80s classics. "I think it's a '80s throw back to a modern version. The action is cut differently than a '80s film," he explains, "But the story is simple. It's about a bunch of big guys who go up against the bad guys.
"There are no green screens, no wires or back flips," says the 6-foot-5 star. "It's all real hits, real fights and real shoot outs. It's the kind of movie that has not been made for 30 or 40 years."
Stallone agrees that that's what inspired him to make the film. "I just wanted to make a real interesting school genre film that is dead or almost gone, for these people who have not seen it in awhile," he says.