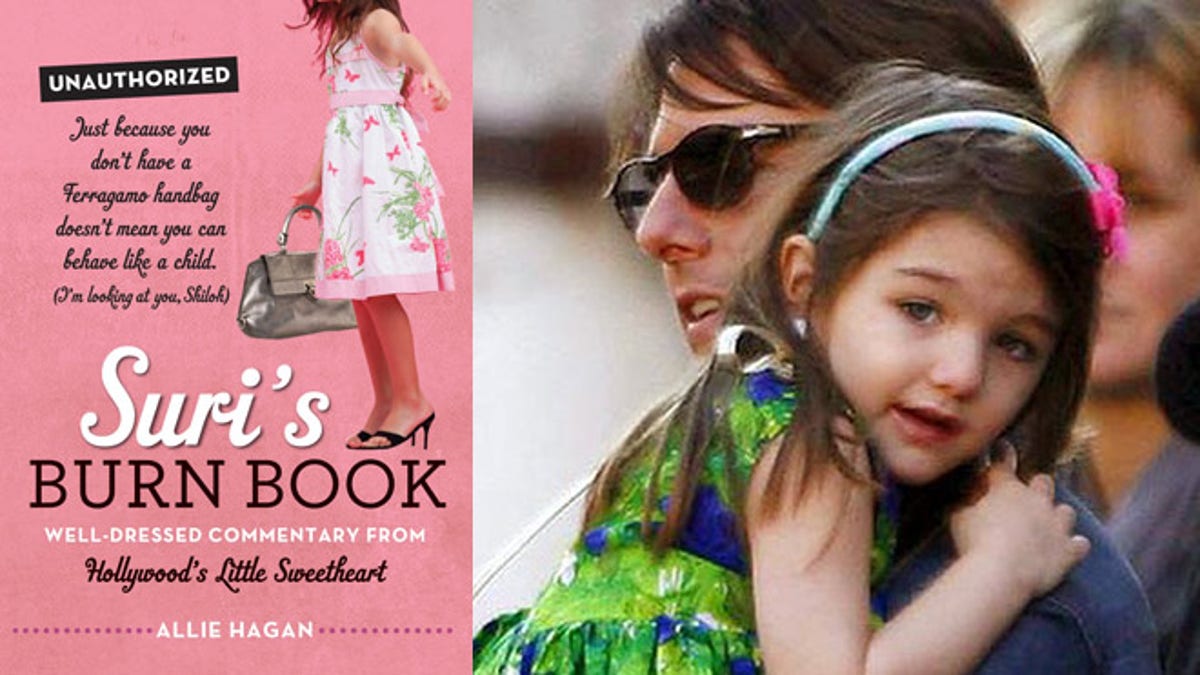 Sometimes Hollywood types need ego-deflators. That's where the offspring of Tom Cruise and Katie Holmes, six-year-old Suri Cruise, comes in in the new book "Suri's Burn Book: Well-Dressed Commentary from Hollywood's Little Sweetheart."
"Every once in a while I would tweet about Shiloh's clothes or something like that, and a friend suggested I make it into a blog. I didn't think using my voice would be very funny,"Allie Hagan, who created the popular blog Surisburnbook.tumblr.com, and wrote the eponymous book, told FOX411's Pop Tarts column. "So I figured who would be better than Suri Cruise? She always has had a reputation of having a very particular, high-fashion style."
Channeling the famous three-inch-heel wearing kid with a snarky, light-hearted tone, the unauthorized book takes on everything from wardrobe malfunctions to annoying celebrities to classic Tinseltown tiffs.
"Suri" claims in the book that Jennifer Aniston is one star who should procreate, vowing: "Jennifer, we know that beneath your sun-kissed hair and perfectly toned arms is a heart that will not be healed until you provide the world with a child. The universe is willing to compromise and will even accept you having a baby with Justin Theroux at this point, even though he is obviously beneath you and probably a creep."
[pullquote]
"Suri" refers to Willow Smith as her "intolerable frenemy," swoons over the Beckham boys and declares she has been friends with them for years because she likes "English people, beautiful people and people who have money," and takes aim at the Jolie-Pitts for being the "exact opposite" to her "fastidiously groomed and extraordinarily behaved" self.
So with all the celeb-spawn kids to choose from, why was Hagan most intrigued by the young Cruise?
"Celebrities really have become a big part of the media and the 24-hour news cycle. There is so much celebrity obsession devoted to the TomKat relationship. And it is fascinating that there is this insider who really knows everything that the media speculates all about," she explained. "And yet, she is just a little girl."
Hagan's decision to select Suri as her narrator has attracted lots of laughs – and a little backlash too.
Critics have taken to the Internet to note that people wasting their times reading a book "about a little girl insulting other kids is just sad for so many reasons," while others claim the concept is exploitative.
"The response really has been overwhelmingly positive, it's just when people don't know the actual blog and they just read a story on it that it attracts some negativity," Hagan insisted. "It's just a bit of fun."
And thanks to the six-year-old celebrity child, the D.C-based author/blogger has boosted her bank account with ads now running on the site and income generated from the much-discussed book, plus she claims she only really spends about six hours a week updating the content!
But the most important question still remains: has mama Holmes herself ever seen the blog or book?
"I've never tried to get it to her, I doubt she has ever seen it or even cares," Hagan added. "I'm just hoping Kate Middleton falls pregnant soon, that will really give me something to talk about."