Stripped of Miss Universe crown, Miss Colombia gets offer to strip for adult film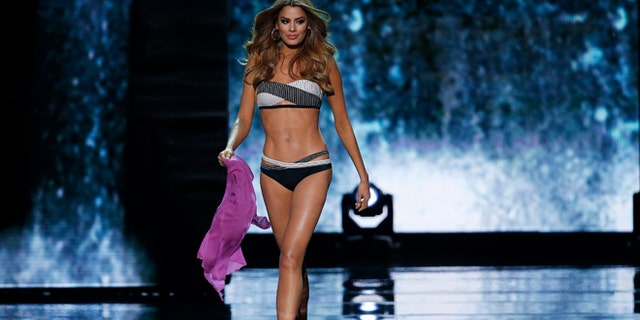 So she didn't win the Miss Universe pageant after all, but that doesn't mean Miss Colombia, Ariadna Gutiérrez, can't make a quick buck out of the ordeal. A million of them, in fact.
Steve Hirsch, the adult film magnate of Vivid Entertainment, has offered the stunning Gutiérrez $1 million to have sex on film. Likening Gutiérrez to 1984 Miss America winner Vanessa Williams, who was stripped of her crown after nude photos of her came to light, the porn promoter said that a sex tape could "benefit" the South American beauty financially while also increasing her fame "way past that of the new Miss Universe."
"Today Vanessa is an accomplished actress, singer and author," Hirsch wrote in an email leaked to gossip website TMZ. "She has even admitted that the incident with Penthouse helped rather than hurt her career."
Hirsch also mentioned reality TV star Kim Kardashian and model Pamela Anderson as celebrities whose careers skyrocketed following the release of a sex tape.
To sweeten the deal, Hirsh said that Gutiérrez could choose her own sex partner for the clip and promised that Vivid would make a crown for her that "will be grander than anything Miss Philippines will ever wear."
Gutiérrez was originally crowned Miss Universe on Sunday, until it was revealed that host Steve Harvey misread the cue card and that Miss Philippines was the actual winner. A teary Gutiérrez was stripped of the crown and sash in one the most bizarre moments in beauty pageant history.
Gutiérrez has yet to respond to Hirsch's "serious" offer.
The Colombian beauty, however, did show some class on Tuesday in praising the event's ultimate winner, Pia Alonzo Wurtzbach, and thanked all her fans for their support in a post on Instagram.
"After the storm comes the calm," she wrote. "Every one of you has become an incredible human being in my book, and I am the most fortunate and thankful for having the support not only from one country but from the whole entire world."
Like us on Facebook
Follow us on Twitter & Instagram