Streaker clad in animal-print G-string interupts fashion show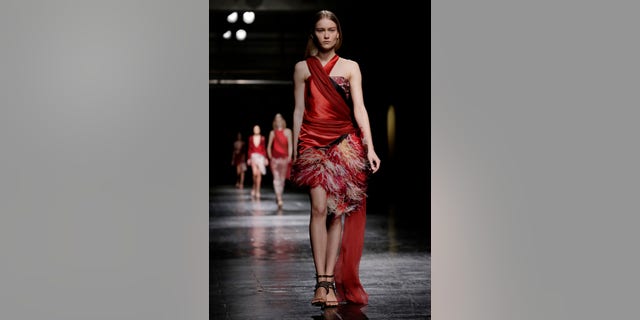 There were opulent gongs, mood music and richly colored coats on Prabal Gurung's Himalayas-inspired runway Saturday at New York Fashion Week.
Oh, and something unusual: a streaker in an animal-print G-string, crown and bright red socks!
The vibe was briefly disrupted by the cheeky (and we do mean cheeky) guy in loafers and overcoat as he ran onstage at a cavernous space in a shuttered post office and knelt before one of Gurung's models as she walked.
But she was a pro, never breaking her model stare. She simply walked around him as he was chased back to where he had come from, behind stage near risers where a throng of photographers snapped away, along with Twitter-crazed guests in the audience.
And for the record, his skimpy piece of cloth included animal ears, googly eyes and a red tongue sticking out.
So, back to the lovely clothes, and that they were.
Opera coats came in deep crimson red and cantaloupe colors with mohair. Chunky turtleneck knit sweaters perfect for ski lodge or base camp had mixed patterns, high slits and embracing sleeves. One coat was a grey mink paired with snow white Mongolian lamb.
Gurung, a Nepalese American designer, embroidered organza for draped looks in blouses. He embellished chiffon with sequins and Swarovski crystals with more draped-detail in a Bordeaux red.
His finale was all about the gowns and more draping: in crimson, Bordeaux and midnight black. One dress had ostrich feathers embroidered on a tulle train.
Gurung said in a backstage interview he was inspired by a tiny former kingdom in mountainous Mustang and the indigenous culture and textures found there. He visited on a recent trip home to Nepal and it "gave me this sense of calm and serenity."
Sandra Bullock, Zoe Saldana and Cate Blanchett have all worn Gurung gowns on recent red carpets, including a colorblocked look for Bullock at the Golden Globes.
For an up and comer like Gurung, the thrill is tangible.
"I know how many options they have and I know the impact that it had and I'm forever grateful," he said.
On Gurung's front row was Carolina Herrera, his mentor after he won the CFDA/Vogue Fashion Fund award in 2010, including a $300,000 prize.
Sitting at a show for another designer was an unusual treat for Herrera, whose Fashion Week show is scheduled Monday.
"I never get to go to shows and I'm always in the backstage, so I don't see anything. So I'm very happy to be here."