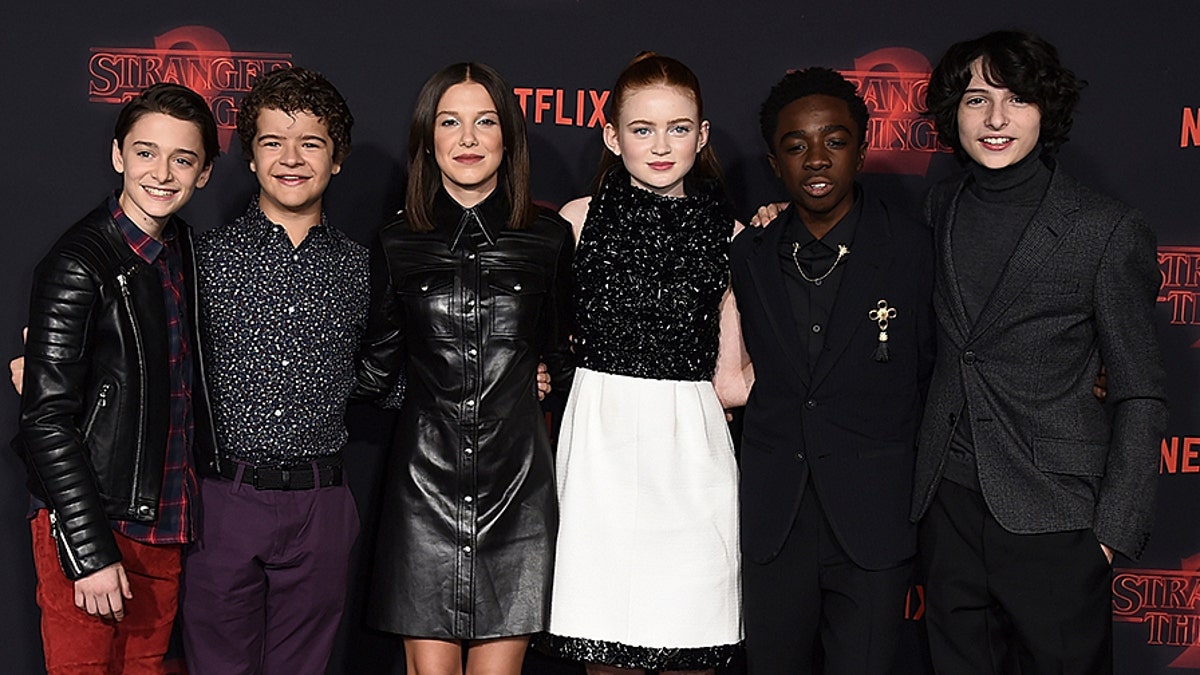 Netflix hit "Stranger Things" has some fans feeling uncomfortable after it was revealed that a 15-year-old actress was told to participate in an on-screen kiss after she became stressed out when the director joked about the idea that wasn't originally in the script.
The scene was a pivotal moment in the Season 2 finale, when the show's stars [SPOILER ALERT!] attend a dance called the "Hawkins Middle School Snow Ball." Sadie Sink's character, Max, and Caleb McLaughlin's character, Lucas, flirted throughout the season and their slow dance at the ball was presumably a heart-warming moment for fans of the show. However, Sink seemed somewhat annoyed when she was asked about kissing her co-star with hardly any notice.
Sink mentioned on the program's after talk show, "Beyond Stranger Things," that the kiss wasn't originally in the script and brought it up to the show's creators, Matt and Ross Duffer, during a roundtable discussion.
BACKLASH FOR MODEL, 27, WHO APPEARED TO HIT ON 14-YEAR-OLD 'STRANGER THINGS' STAR
Sink pointed at the show's creators, grunting with frustration, before she is told, "This is all your fault."
Sink then explained how the on-screen kiss came to fruition.
"One of you, I think it was you Ross, you say, 'Ooh, Sadie, you ready for the kiss?' I'm like, 'What! No. That's not in the script … that's not happening. The whole day I was like stressed out," Sink said.
Ross Duffer didn't appear to feel sorry for the underage actress, telling her it was her fault and that he simply made them kiss because she seemed so uncomfortable when he joked about it.
"You reacted so strongly to this. I was just joking, and you were so freaked out that I was like well, I gotta make her do it now," Duffer. "That's why I'm saying it's your fault."
The 15-year-old Sink and the 16-year-old McLaughlin appeared to poke fun at the situation during "Beyond Stranger Things," but it is an interesting conversation when tales of sexual harassment have been popping up across Hollywood since disgraced mogul Harvey Weinstein was outed as a serial predator. This is clearly not on the level of anything Weinstein has been accused of and the cast of the show are engaged in a playful conversation throughout Sink's story.
Nonetheless, the underage actors both said it was their first kiss and the awkward conversation has upset fans of the hit Netflix series. One Twitter user called the interview "terrifying" and another said it's simply "not OK."