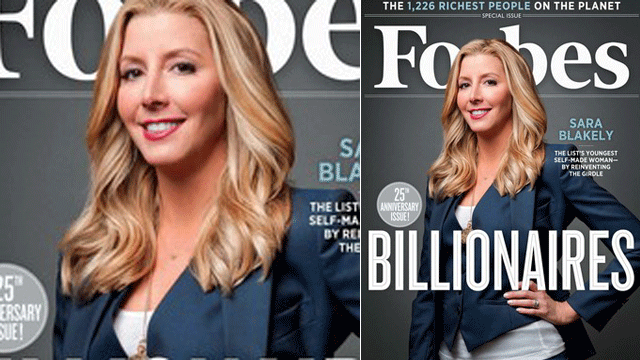 When Sara Blakely was a 27-year-old salesgirl with the bright idea to create shaping, smoothing undergarments, she had no idea that her creation would take her on a journey to become the youngest woman to debut on the Forbes Magazine Billionaires List, which was released Wednesday.
According to Forbes, Spanx is valued by several Wall Street Banks at an average $1 billion. That figure squeezes 41-year-old Blakely - who owns 100 percent of the private company -- into an elite circle of super-rich, mostly male, movers and shakers. She ranks 1,153 of 1,226 on the Forbes list.
The Atlanta-based firm, which employs 125 staff, with only 16 men, now claims an estimated 20 percent of revenue of the broad "shapewear" sector, just south of $250 million.
Blakely's rise to riches began with $5,000 in the bank and a growing frustration over old-fashioned pantyhose that revealed seams at the toes and failed to flatter the figure in all the right places.
The young entrepreneur's frustration hit a boiling point when she attempted to wear a pair of cream slacks to a party one evening.
"I cut the feet off my pantyhose and wore them underneath," she told Forbes. "But they rolled up my legs all night. I remember thinking, 'I've got to figure out how to make this.' I'd never worked in fashion or retail. I just needed an undergarment that didn't exist."
Blakely wore the same cream pants every day for the first three years after starting Spanx. "I had no money to advertise, so I was the promotion," she says on her website.
After several trials and tribulations trying to find a hosiery mill to produce her design, while maintaining her nine to five sales job and performing stand-up comedy at night, Blakely's dream product finally became a reality.
She began selling Spanx in major US department stores such as Neiman Marcus and Saks Fifth Avenue in 2000.
But the young entrepreneur got her real break when she received the "call of a lifetime" that fellow billionaire Oprah Winfrey had fallen for Spanx and planned to feature them on her annual "favorite things" show.
After the Oprah endorsement, Spanx began flying off shelves faster than Blakely's team could fill orders.
Spanx now sells 200 products in 11,500 department stores, boutiques and online shops in 40 countries, Forbes said.
"I have to pinch myself," Blakely told the magazine. "Five grand," she says, thinking back a decade. "Good investment."
NewsCore contributed to this report.