Source: Howard Stern also in the running for 'Tonight Show' job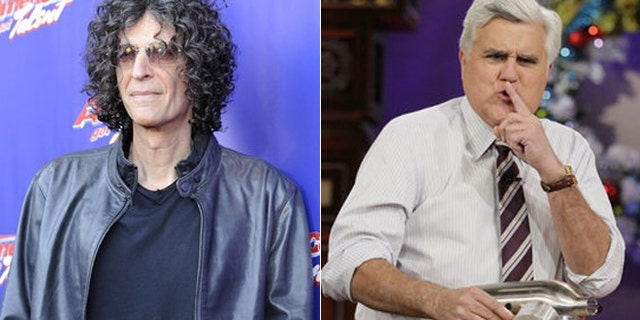 NEWYou can now listen to Fox News articles!
The Tinseltown rumor mill continues to run rampant with reports that the 2013-14 season will be Jay Leno's last at the "The Tonight Show," potentially to be replaced by popular NBC comedian Jimmy Fallon.
However, an inside source tells FOX411's Pop Tarts column that there's another famous funnyman in the running for the top job.
"Howard Stern. They love him at NBC and 'America's Got Talent' is doing really well," said the source. "He's very self-censored, so it works well. And let's face it, Howard Stern would be great at it – and I can't imagine that he wants to do radio forever."
Self-described as the "King of All Media," the long-time radio personality joined the NBC television family when he replaced Piers Morgan on the "America's Got Talent" judging panel in 2012. He recently announced that he was returning to the show for the 2013 season.
And according to at least some entertainment industry experts, giving Stern a spot on the couch is simply genius.
"Stern's a fascinating option: he's an iconic broadcast personality with a huge following and he's an incredibly skilled, fast on his feet interviewer, which may make up for some deficiencies when it comes to the traditional monologues and scripted comedy kits of late-night talk shows," said Hollywood pop culture reporter, Scott Huver. "He's proven he can clean up his notoriously crass radio act for television, and Stern would probably be wise to leave the porn stars, strippers and freak show sidekicks largely behind him – but he could get a lot of comedy mileage out of a 'reformed bad boy' approach. Making things even more interesting, Stern has been outspoken about his personal disdain for Leno in recent years, refusing to make nice after they became network-mates."
Entertainment writer, Mikey Glazer, too gave Stern the thumbs up.
"Heck yeah, it would work. The industry loves Sterns interviews. They're utterly compelling. His E! Show was the longest running show in E! history and highest rated thing on the channel at the time, aired in the same time slot (late night) and was him doing celeb interviews that totally worked," he enthused.
Although Glazer is skeptical that the cutthroat, routinely raunchy comedian would even take on the task.
"Howard is very friendly with Jimmy Kimmel, and they'd be going head to head. Kimmel hosts barbeques and parties for him when he comes to LA," Glazer added. "He would have to be in LA, as I'm not sure NBC would ever move the Tonight Show to NYC. Lastly, he doesn't need the stress of carrying a show himself."
Reps for Stern and NBC did not respond to a request for comment. NBC had previously referred to reports that Leno would retire and Fallon would fill his shoes as "categorically false," and a rep for Leno declined to comment on speculation.
Would Howard Stern be a good "Tonight Show" host? Let us know what you think on our FOX 411 Facebook page.