Sofia Vergara In Threesome With Sharon Stone In 'Fading Gigolo'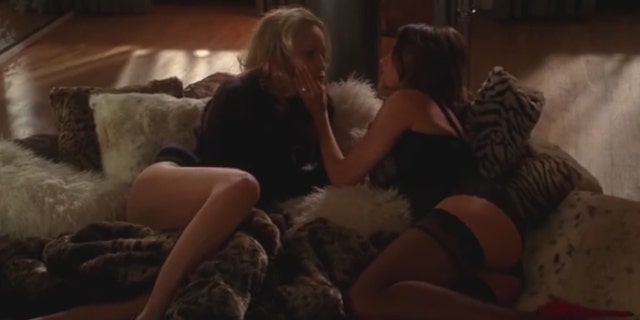 Sofia Vergara looks flawless and ageless when she strips down to racy lingerie to spice up her relationship with a ménage a trois in her upcoming romantic comedy.
In "Fading Gigolo," the Colombian bombshell plays one side of a wealthy couple who has turned to a broke storeowner-turned-pimp for help spicing up their sex life.
"Is he tall?," the Colombian actress' character is seen telling her lover, played by Sharon Stone, in a scene. "I really think I should try him."
Film veteran Woody Allen plays the first-time pimp. He has recruited his employee Fioravante, played by John Turturro, to fulfill the needs of Vergara and Stone's characters and other wealthy clients.
The duo – mostly Allen's character, Murray – believes New York is filled with older woman with raging libidos who can make them a couple of bucks.
"I am not a beautiful man," says Turturro's character.
Murray, though, is adamant it will work.
"Is Mick Jagger a beautiful man?" he says.
The duo dons the names "Virgil Howard" and "Dan Bongo" for the job.
In one scene in the film's two-minute, 30-second trailer, Vergara's character cheekily tells Fioravante: "I like it rough. Sometimes I even like to be the man to strap on my gun."
Another scene sees Vergara and Stone lounging on a pile of fur blankets and cushions in very revealing lingerie, enticing Turturro's character into the ménage a trois.
Vergara has never been shy about how she like to stay sexy, and the sassy role in the film seems perfect for her.
"I'm Latin; I do it no matter what. It's automatic. I shower, do hair and makeup. For me it's like shaving," the Emmy nominee recently told Harper's Bazaar.
"Facing Gigolo" also stars Live Schreiber and Vanessa Paradis.
The film, written and directed by Turturro, is slated to premiere at the Toronto International Film Festival next month.
Follow us on twitter.com/foxnewslatino
Like us at facebook.com/foxnewslatino