Singer Jason Mraz opens up about his sexuality: 'I've had experiences with men'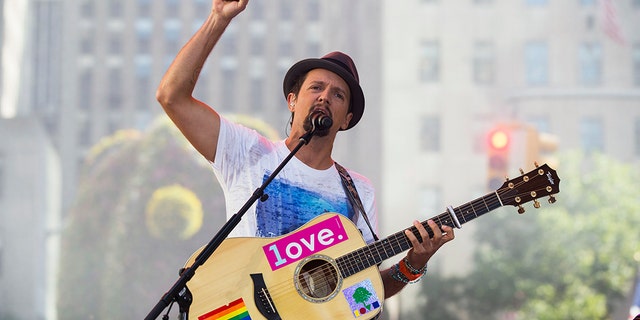 Singer and songwriter Jason Mraz has opened about his sexuality and what it means to be "two-spirited."
In a new interview with Billboard Magazine, the 41-year-old singer revealed that he struggled with his sexual identity, even while in his relationship with his wife of three years, Christina Carano.
"I've had experiences with men, even while I was dating the woman who became my wife," he said in the interview.
But the "I'm Yours" singer said that his now wife is the one who helped him embrace his sexuality.
"It was like, 'Wow, does that mean I am gay?' And my wife laid it out for me. She calls it 'Two Spirit,' which is what the Native Americans call someone who can love both man and woman."
According to The New York Times, "Two-Spirit" was a term coined during a conference for gay and lesbian Native Americans in the '90s.
In June, during Pride Month, the singer wrote a Pride-themed poem, which featured the line, "I am bi your side." Mraz revealed to the magazine that though he intended to include the line in the poem, he "didn't realize it was going to be so telling," he told Billboard.
This isn't the first time Mraz has opened up about his sexuality. Back in 2005, the star told Genre magazine that he is "bisexually open-minded," but at the time he had "never been in a sexual relationship with a man. If the right one came along, then sure."
He continued, "I had a gay friend I was hanging out with just about every day. We were basically best friends. It took me about three months before I realized, 'Oh my god, we're dating,' " he shared.
But the singer joked that while he loved his good friend, he wasn't seeking a romantic relationship with him.
"Right before I moved to California he gave me a pretty strong-willed kiss goodbye, which I have never experienced before," he said. "Unfortunately, he had a little bit more facial hair than I like."