Showtime's 'Masters of Sex' takes explicit look at sexuality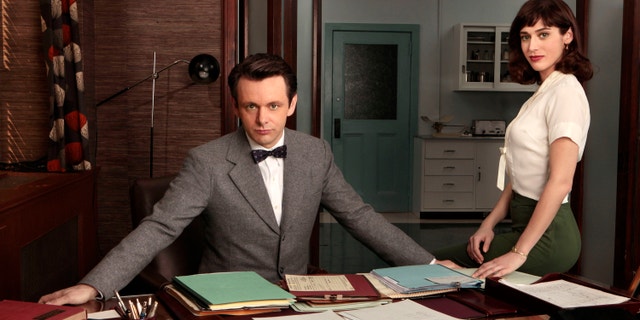 There's so much sex depicted on a new cable TV series about researchers Masters and Johnson that filming it became ho-hum for star Michael Sheen.
"I never thought I would get used to having a naked woman in front of me masturbating ... but I actually broke that barrier on the show," Sheen, who plays researcher William Masters, said Tuesday.
He plays opposite Lizzy Caplan as co-researcher and future wife Virginia Johnson in Showtime's "Masters of Sex," an explicit depiction of the pair and their groundbreaking mid-20th century scientific investigation of human sexuality.
The series, based on Thomas Maier's 2009 nonfiction book, debuts Sept. 29 on Showtime. Johnson died last week at age 88 in St. Louis. She was divorced from Masters, who died in 2001.
Sheen, whose film credits include "The Queen," said the story remains pertinent because the same "problems of intimacy" and making connections with people apply today.
During a Q&A session with the Television Critics Association, the difficulty of talking about sex publicly became apparent. One reporter asked the cast and producers how the series can include humor without appearing to titter at sexuality.
"We just had a slightly inappropriate look into your sex life. We all thank you for that," Sheen replied, drolly.
Caplan (TV's "True Blood," ''New Girl") said the researchers' work at Washington University in St. Louis and later at their own institute was especially important for women, allowing them to understand and accept their sexuality as healthy.
"Before Masters and Johnson, no one was telling women that. It was always their own fault," Caplan said. "And that's some (baloney)."
The series embellished some characters but "stuck to the facts very carefully," said producer Michelle Ashford. "Certainly (with) the research, we fudged none of that."
Masters and Johnson became big celebrities who were the topic of late-night talk show hosts and on the cover of news magazines. Their work drew some criticism, especially in an era when sex was seldom discussed in public and certainly not in detail.
The cast, asked whether filming sex scenes proved embarrassing, said there was a painstaking effort to protect the actors by making the production "comfortable and safe," Sheen said.
Cast member Teddy Sears recalled director John Madden saying, "I want to protect your modesty," then mimicked the British Madden giving a stage direction: "Grab her bum."
Doing repeated takes of one clinical sex scene turned out to be "decidedly unsexy after a while," Sears said.
The panelists, including executive producer Sarah Timberman, said they were not in touch with Johnson because they'd wanted to respect her privacy.
"She wanted to live out her the last few years of her life not in the limelight," Caplan said.
Johnson "bared her soul in the book (by Maier) and then was done with that," said producer Ashford.