'Sharknado' premiere a Twitter home run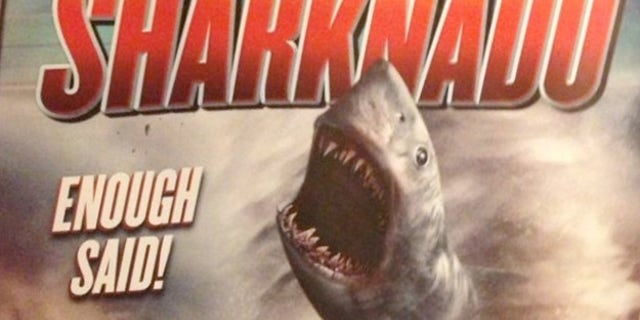 "Well, somebody is sleeping with his aquarium lights on tonight."
With that tweet -- along with about a dozen more -- "The Five's" Greg Gutfeld became part of the Twitter's Great 'Sharknado" debate.
Gutfeld, engaged in a tense back-and-forth with his "Redeye" Ombudsman Andy Levy, was just one of thousands of Twitter followers swept up in a tongue-in-cheek extravaganza over SyFy's latest campy monster-disaster movie. To illustrate the breadth and all-inclusiveness of the phenomenon, actress Mia Farrow and Pulitzer Prize winning author Philip Roth also tweeted about the made-for-TV movie.
Together.
They even sent a picture of themselves doing it.
The show, which debuted at 9 p.m. EST Thursday night, peaked at over 5,000 tweets per minute at 10:58 p.m. That's' almost 80 tweets per second, nowhere near the record of over 5,000 tweets per second set after Obama's second presidential election win, but still a huge event by Twitter standards.
And why not. With a cast that included Ian Ziering ("90210") and Tara Reid ("American Pie"), the movie also had an unbeatable plot line: hundreds of flesh-eating sharks are hurled into Los Angeles by a tornado.
As their tagline reads: Enough said!
And plenty more celebs chimed in. "30 Rock" star Judah Friedlander ("If Ian Zeiring is not in a shark movie. It's not a good shark movie"), "The Shield's" Michael Chiklis (Oh Godd**n it, now I want to see it too and then I'm gonna want to quit the business...again!), and "SNL" alum Horatio Sanz ("I wish I could join in on the shenanigans, But I had a cousin that was killed by a #Sharknado back in '93") also joined in on the fun.
If you missed it, SyFy will undoubtedly rerun it. Here's the trailer.