Scout Willis, daughter of Bruce and Demi goes topless in Manhattan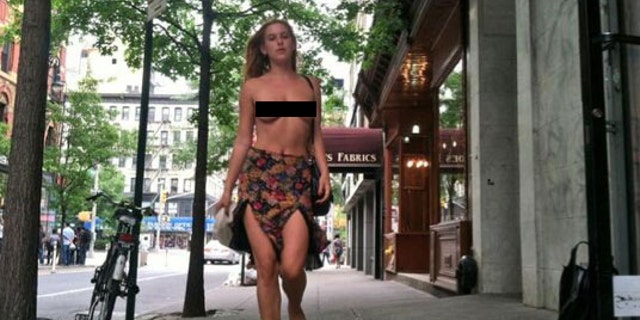 Scout Willis took to the streets of New York yesterday to stage a social media protest – topless. The 22-year-old daughter of Demi Moore and Bruce Willis leisurely strolled around the streets of Manhattan topless to protest Instagram's nudity policy.

The middle Moore-Willis daughter tweeted photos of herself in a pretty floral skirt, flats and nothing else roaming around New York City.

"Legal in NYC but not on Instagram," Willis tweeted about her photos. She captioned another: "What @Instagram won't let you see #FreeTheNipple"
Her protest was sparked after Twitter removed one of her photos for violating its Community Guidelines. The offending photos was of a sweatshirt that depicted two topless women with their nipples clearly showing.
"My comfort with my body should not be dictated by how others perceive me," Willis tweeted. "However, I don't wish to force this view on anyone. If you don't like what you see, simply unfollow me."
She then followed her tweets with grabs of Instagram posts by venture capitalist Dan Bilzerian showing scantily clad women.
"Pictures of breast cancer survivors have been flagged + deleted but this is super #sick and #hot amiright?" Willis tweeted sarcastically about a shot of a woman clad in hot pants and suspenders. "@Instagram I'm sure this woman feels super safe and validated by your community guidelines."
Willis' Instagram account is not active but she's thinking of creating a new one.
"Thinking of starting a new Instagram account as an experiment. Only beautiful, artistic nudes. And let's see how long till I get kicked off," she wrote.
Click here for more photos of Scout Willis.