Scene and Herd: Where the stars will be during the Super Bowl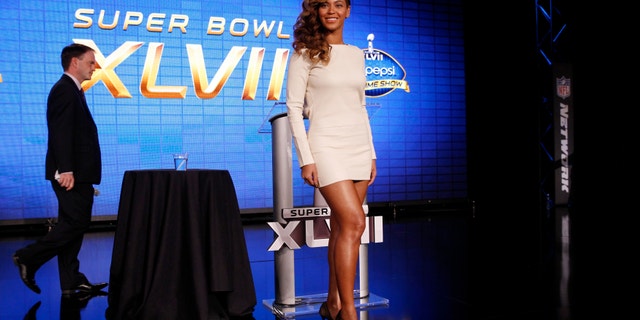 Hollywood is set to empty out this weekend as the who's who of the entertainment industry flocks to New Orleans, where they will join forces with all the big athletes from across the country for one heck of a Super Bowl extravaganza.

And when in the Big Easy, the stars can no doubt expect plenty of booze, blues, and a laid-back, good time.

"Even if you don't go to the actual game in a place like New Orleans, there's so much energy and the parties leading up to game day are so much fun, that it's worth the trip," publicist and Super Bowl veteran, Jen Birn, told FOX411's Pop Tarts column.

So where will all the famous faces be in the days and nights leading up to the showdown between the 49ers and the Ravens?

On Friday night, Rolling Stone LIVE will kick off the weekend's festivities at the Bud Light Hotel on Convention Center Boulevard with an epic concert by Pitbull and Flo Rida, and the expected partygoers include Paul McCartney, sportscaster Erin Andrews, model Candice Swanepoel, television personality Craig Ferguson and actors Adrianne Palicki, Connie Britton, Josh Hutcherson, Jason Clark and Laurence Fishburne.

But the hottest ticket in town is definitely the Playboy party, presented by Crown Royal. Picture at least 20 Playboy Playmates bunny-hopping to the live tunes of B.o.B and Trombone Shorty at the popular Jax Brewery Bistro Bar.

Meanwhile, celebs such as Alyssa Milano, Andy Roddick, One Republic and Mark Sanchez, Michael Vick and Henry Cavill will be hitting up Tad Gormley Stadium for the ESPN The Magazines "Next" Event, complete with a performance from Ceelo and Goodie Mob.

And for some parties and sponsors, its double trouble.

The annual "Leather & Laces" bash is back and set to take over Second Line Stages on both Friday and Saturday nights. On Friday night, revelers can hope to kick back with hosts Kendra Wilkinson, Jenny McCarthy and Audrina Patridge, while Saturday night will be led by Jamie Chung, Rachael Leigh Cook, and Brooklyn Decker.

Yet for those seeking a more civilized night – or at least a warm-up for what is too come – The AUDI Forum returns with a weekend of luxurious, exclusive events at the Ogden Museum. Anticipated attendees for Friday include Will Ferrell, Jeremy Renner, Lea Michele, Cory Monteith, Ashley Greene, Anna Faris and Santigold, while Saturday's soiree is expected to be populated by Solange Knowles, Paul Wesley and Ian Somerhalder.

And there is no time to be spent in bed nursing sore heads.

On Saturday, scores of spectators and celebs will converge on more than one million pounds of freshly poured sand at the DTV SuperFan Stadium at Mardi Gras World to take part in DIRECTV's Seventh Annual Celebrity Beach Bowl. It's free to the public, and guarantees some laughs as rapper Snoop Dogg (or is it Snoop Lion?), Katherine McPhee, Nina Dobrev, Chrissy Teigen and many, many more get their game on.

The stadium will quickly be converted into a sleek and sophisticated nightclub for the evening's affairs in which Justin Timberlake will appear as the special guest at DirecTV Super Saturday night party to benefit Shriners Hospitals for Children, also co-hosted by Mark Cuban's AXS TV.

Also on Saturday night, Samsung Galaxy is hosting a "Shangri-La" event at The Costello Home with a special 45-minute musical performance by Jamie Foxx, including both originals and Ray Charles covers. Actors Kellan Lutz, Olivia Munn and Kate Walsh are expected to get their groove on alongside three-time Super Bowl champion Emmitt Smith and NFL Hall of Famers Jim Brown and Barry Sanders.

Across the way in The Elms Mansion the GQ party will be poppin' as the stylish men's magazine teams with Lacoste and Mercedes-Benz to celebrate the big game in the Big Easy with a special musical performance by Lil Wayne. Oh, and a VIP roster of stars including Kate Upton, Chace Crawford, Victor Cruz, Jon Cryer, Aaron Paul, Kelly Rowland, Mark Salling, Ryan Kwanten, Ludacris and Ryan Lochte.

Starting Saturday night but no doubt raging until the early hours will be the Patron Tequila-sponsored Maxim Party teaming up with "Gears of Wat: Judgment" for XBOX 360 and FOX Sports. The attendee list includes everyone from 50 Cent and Rascall Flatts to Neil Patrick Harris, Tom Arnold and even "The Dog Whisperer" Cesar Milan.

And over at Republic New Orleans in the epicenter of the Warehouse District, Jay-Z will get a star-studded crowd - likely comprised of Jeremy Renner, Gary Clark Jr., Katherine Webb and Gayle King - moving as he hosts the "D'USSE, a bold new expression of Cognac" soiree.

And for the celebrities and fans who don't manage to score a ticket to Sunday's big ordeal, Jeep and Rolling Stone are hosting the "Jeep Heroes Tailgate" specifically for fans at Generations Hall, with Josh Hutcherson, gymnast Shawn Johnson and Josh Sasse on tap to entertain while The Roots take to the stage.

But even before we hit the weekend, some partygoers got a head start. Literally.

On Wednesday, famed dandruff-eliminating shampoo Head & Shoulders revealed Angels Pitcher C.J Wilson as its newest MLB "Mane Man" – joining the ambassador team which already includes Troy Polamalu of the Pittsburgh Steelers and Olympian Michael Phelps. During an event in New Orleans Wednesday, fellow ambassador Brett Keisel passed the or shampoo bottle to Wilson, also marking the hand off from football season to baseball season.

"New Orleans is an ideal city for a Super Bowl," added Michael Nyman, Chairman & CEO of PMK•BNC. "Celebrities love coming here because everyone just wants to have fun and embrace the festive atmosphere."