Samantha Bee dishes what goes on behind the scenes at 'Full Frontal'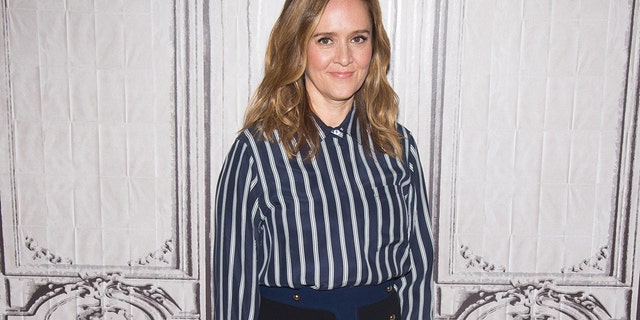 NEWYou can now listen to Fox News articles!
NEW YORK – "Full Frontal with Samantha Bee" has been a huge hit for TBS and it's quickly catapulted Bee to a new level of stardom as she has become the first female late night TV host.
Bee says she couldn't do any of it without the amazing team that works on the show, and, yes, they are mostly female.
"We did not fix diversity," Bee explained to the audience at the Tribeca Film Festival's Daring Women Summit on Wednesday. "We are moving the needle forward."
The show's producer Allana Harkin noted the show runner and stage runner for the show are female.
"When you come to our show you only hear female voices," Harkin told the crowd in New York City.
Bee noted part of the reason they have so many women on staff could be because they did blind submissions for the show's writing staff.
"It's in our DNA to hire women," she said.
One woman she said she could not do the show without is Harkin. Bee demanded her longtime friend join her to work on the series, and the two reflected on their relationship outside of work.
"I couldn't do a show if Allana didn't work on it," Bee said.
Harkin recalled leaning on Bee for parenting advice. Harkin said Bee convinced her to eat the placenta after giving birth, something Bee admits she did.
"Sam said 'it might make you a little high... And I was so high," she said laughing.
Behind the scenes at their show, Bee said she asks Harkin for feedback on how she is managing things.
"I've never been the boss before," Bee said. "It's new to me. Leadership is new to me."
The comedian said the format of the show, which airs once a week in a half-hour time slot, has been crucial to it's success.
"I think the show has velocity," she said. "It's like 21 perfect, fun minutes for me to get it all out."
Bee, who is originally from Canada, said being Canadian perhaps pushed her to work harder for her big break.
"Maybe we had to start with a greater sense of hopelessness," she said, noting not many Canadians dream they will ever be on hit U.S. comedy shows like "Saturday Night Live."
Bee became a United States citizen a few years ago and she voted in the New York primary on Tuesday.
"I voted for the first time yesterday," she said proudly. "I'm not going to share who I voted for."