Salma Hayek to Play La Doña María Félix in Iconic Biopic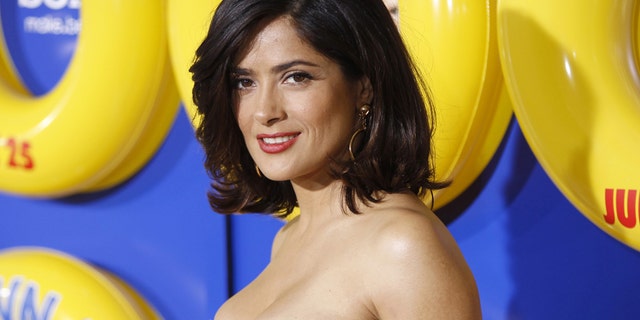 Buxom beauty Salma Hayek will soon be starring as the iconic La Doña María Félix in a biopic film, entertainment site Enelbrasero.com is reporting.
Hayek, 44, who also played the legendary Mexican painter Frida Kahlo back in 2002, will be producing the film with Oliver Stone.
Enelbrasero reports that the script has been ready for five years and production is underway.
There is a possibility that MGM studios will also be involved in making the film.
The busty star recently made headlines when revealing that when she was younger she prayed to Jesus to bless her with breasts.
"I went to a church that had a saint that was supposed to do a lot of miracles," Hayek said. "I put my hands in the holy water and went: 'Please Jesus give me some boobs.'"
Hayek, 45, adds that she was "really scared" because she was "the youngest in class and all these girls were starting to get them (breasts.)"
"I was getting teased a lot because everyone was older and I was the skinny tomboy," Hayek continued. She also mentioned that speaking English was a big challenge when she first arrived to the United States.
"I was upset by one review because it said, 'Salma Hayek, bombshell,'" said Hayek. "I thought they meant the movie bombed because it was so bad."
Hayek's latest film, "Puss in Boots," where she stars with Antonio Banderas, was a success, taking in $34 million over Halloween weekend to lead the box office race.
The PG-rated "Puss in Boots" scored with family audiences, drawing an especially large Hispanic crowd, which made up 35 percent of its audience.
You can reach Alexandra Gratereaux at: Alexandra.Gratereaux@foxnewslatino.com or via Twitter: @GalexLatino
Follow us on twitter.com/foxnewslatino
Like us at facebook.com/foxnewslatino