Roseanne Barr's ex-husband Tom Arnold says actress is 'obviously' racist: 'I warned everybody'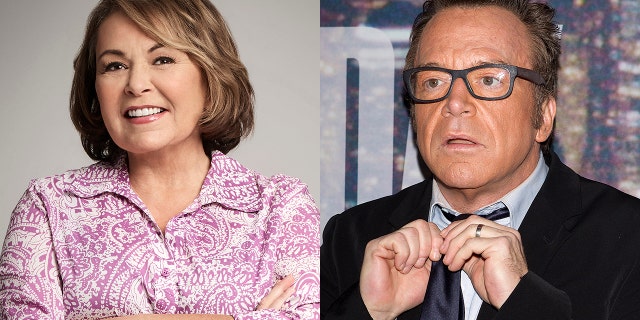 Tom Arnold, Roseanne Barr's ex-husband, said Monday that the actress is "obviously" racist and that he warned everybody on the canceled ABC sitcom to take her phone away.
Arnold was asked on ITV's "Good Morning Britain" whether Barr was racist. Arnold responded: "yeah, obviously," adding that he saw Barr's fall coming.
"I have to say, I saw it coming. I warned everybody. I'm talking to my step-daughter the whole time. 'You've got to get her phone away from her.' 'Here's a phone, she can tweet, but it goes to a different server, there's time'… It was madness," Arnold told the hosts, according to Metro UK.
Arnold, who was married to Barr from 1990 to 1994, said there were "mental illness issues" with the actress.
"She has had mental illness. When we were married she dealt openly and honestly, our whole family did with multiple personality disorder. She supported me through rehab," Arnold said.
"She had the multiple personality disorder, she was honest and courageous about that. I don't know exactly what's going on. I know there is mental illness issues."
ABC canceled the reboot of the hit series "Roseanne" last week after Barr posted a racist tweet about former President Obama's aide Valerie Jarrett.
Arnold told The Hollywood Reporter on Thursday that he believes Barr wanted the show to be canceled.
"It had to happen," Arnold told the magazine. "And I am going to tell you the truth, she wanted it to happen, if you saw how her tweets escalated this weekend. If it hadn't happened yesterday, this season would have been so awful for everyone every day because she would have felt like she was [being] taken advantage [of], just like when I left the show."