Roseanne Barr's ex-husband Tom Arnold is among the stars praising ABC for canceling her show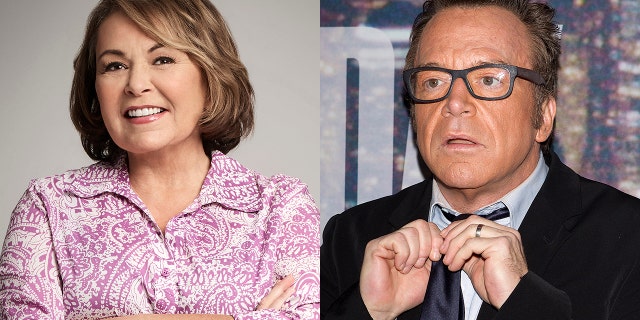 Following the news that "Roseanne" was canceled by ABC on Tuesday, hours after Roseanne Barr posted a racist tweet about former President Obama aide Valerie Jarrett, celebs including Barr's ex-husband Tom Arnold are applauding the network's decision.
"Ton of respect for Bob Iger," tweeted Arnold, who was married to Barr from 1990 to 1994, about Disney CEO, Bob Iger.
Continued Arnold: "Tough decision with financial consequences for his company but right for America....umm… now don't bug Bob but maybe someone else find out if I'm still banned from all of @ABCNetwork for calling Roseanne Barr out first on her racist conspiracy tweets."
Actress Minnie Driver also shared how "proud" she was of the cancellation, calling on fans to watch her show, "Speechless," instead.
"So proud of @ABCNetwork for having the ethical compunction to cancel #Rosanne (sic) despite the show's huge numbers. We too make a show about a middle class family , come and watch us instead #speechless @Speechless_ABC," wrote Driver on Twitter.
Shonda Rhimes, who's created several hit series for ABC including "Grey's Anatomy," tweeted: "But honestly she got what she deserved. As I tell my 4 year old, one makes a choice with one's actions. Roseanne made a choice. A racist one. ABC made a choice. A human one."
Debra Messing wrote on Twitter: "I just heard #rosanne (sic) is cancelled. My reaction— tears. I am so relieved and grateful. The hate that has been spewing from those in Trump's orbit has really taken a toll on all of our souls and psyches. I didn't believe it would happen. I had lost faith. Thank you @abc."
On Tuesday, ABC Entertainment President Channing Dungey said that the network would not be producing the show's second season.
"Roseanne's Twitter statement is abhorrent, repugnant and inconsistent with our values, and we have decided to cancel her show," Dungey told Fox News.
The announcement came hours after Barr wrote a racially charged tweet saying Jarrett, who is African-American and born in Iran, is like the "muslim brotherhood & planet of the apes had a baby."
A rep for Barr did not previously respond to Fox News' request for comment.