Rose McGowan heartbroken over report Asia Argento made deal to pay her own sexual assault accuser
Rose McGowan said Monday she was heartbroken after a bombshell report revealed Asia Argento agreed to pay $380,000 to an actor who accused her of sexually assaulting him when he was 17 years old.
"I got to know Asia Argento ten months ago," McGowan wrote in a tweet. "Our commonality is the shared pain of being assaulted by Harvey Weinstein. My heart is broken. I will continue my work on behalf of victims everywhere."
McGowan later added, "None of us know the truth of the situation and I'm sure more will be revealed. Be gentle."
Argento was one of the first prominent women to accuse disgraced movie mogul Harvey Weinstein of sexual assault. She is accused of assaulting a then-underage former child star in a California hotel room in 2013, The New York Times reported. The age of consent in California is 18.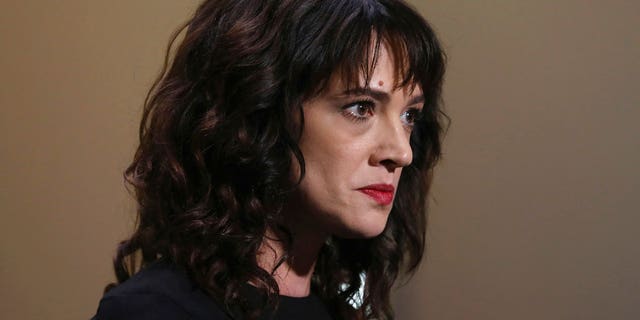 Neither Argento's representatives nor the accuser's attorney immediately responded to Fox News' request for comment.
The newspaper obtained documents sent between lawyers for Argento and the accuser that laid out a payment schedule. The paper also obtained a photograph dated May 9, 2013 that showed the two lying in a bed together.
On that date, according to a notice of intent to sue document sent to Argento's then-lawyer in November, Argento allegedly met the accuser at the Ritz-Carlton hotel in Marina del Rey, Calif. After giving him alcohol, Argento kissed him and performed oral sex on him before the two had sexual intercourse, the report said.
The notice of intent asked for $3.5 million in damages. The Times reported that the final agreement was reached in April of this year.
Argento, now 42, played a prominent role in the downfall of Weinstein, the former head of Miramax. In October of last year, The New Yorker published allegations by Argento that Weinstein forcibly performed oral sex on her in 1997.
Argento and McGowan were among the actresses who gave rise to the global #MeToo movement and prompted a re-examination of the behavior of prominent men in other industries, most notably media and entertainment.
Weinstein has since been charged in New York with first- and third-degree rape and first-degree commission of a criminal sex act. He faces up to 37 years in prison if convicted.
Fox News' Sam Chamberlain contributed to this report.