Rosario Dawson hopes to get arrested at DNC protest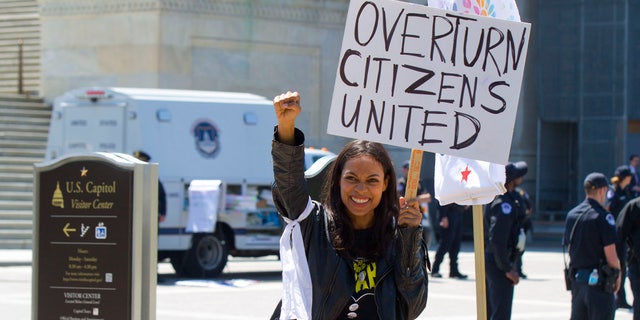 Rosario Dawson already has been arrested this year protesting in front of the White House, and she hopes – in fact, expects – that she'll get handcuffed once again at the Democratic National Convention next month.
The actress and activist told The Cut that getting arrested along with hundreds other "Democracy Spring" protesters in April "did really make an impact."
"It started to make noise. It started to make people pay attention," she said. "I am definitely going to the DNC, and I'll definitely be protesting outside."
Dawson has made a name for herself during the current presidential election as a vocal Bernie Sanders supporter. Despite Hillary Clinton being the presumptive Democratic Party nominee, the actress said she remains very much devoted to Sanders.
"I have never gotten behind any candidate before," she said. "I was actually inspired to get behind Bernie, I don't see that just shifting over to anybody, but I'm about the issues and the people."
By the issues, she said, she means "basically everything."
"The collusion between the media and the Hillary Clinton campaign," the actress mentioned, ticking off the things about the primary process that she feels strongly about. "The terrible debate structure … How they have structured this entire election … We want to get rid of super-delegates … We want open primaries … universal health care, education … pretty much everything that we had behind Bernie Sanders."
Just this weekend, she was at a conference in Chicago helping train others to "do civil disobedience properly." They did mock-protests and prepared people on how to get arrested.
Dawson told The Cut, "I came in at the very end, and pretended to be a cop and arrest some folks, and pick them up and put them away. It's really fascinating because it is fake, but the energy is really high, and you all talk about it afterward."
"It's about talking people through the whole process," she said. "How they felt chanting together, arms locking – how they felt when we started taking people to arrest them. It is really good to take them through all of that. It is an emotional thing, and you are going to be surrounded by potentially a million people. It is really intense."