Ronda Rousey's boyfriend Travis Browne throws shade at her ex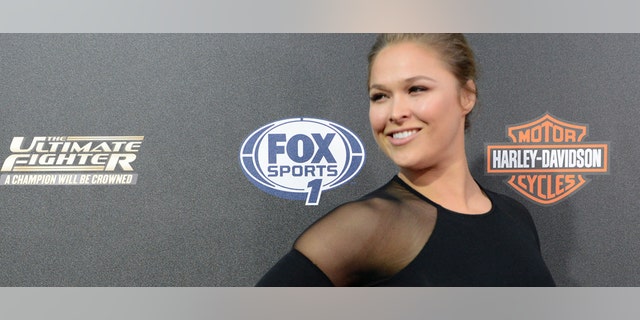 Travis Browne wants Ronda Rousey's ex to put up or shut up.
After posting a "Throwback Thursday" photo on Instagram capturing his December 2014 victory over Brendan "Hollywood" Schaub, Rousey's current beau took a shot at her former flame.
"#tbt What a satisfying night when you shut someone up with your fists," Browne wrote.
While Schaub certainly felt the sting following Browne's knockout two years ago, it seems the 33-year-old has moved on from Browne's drama.
"It's over. I have no hard feelings. I like him — he's a nice guy, his girl. What's there left to say," Schaub said on his "The Fighter and The Kid" podcast on Friday. "Is there hard feelings because I dated your girl years ago? Move on, man. I don't hold grudges. It is a bummer."
But before moving on from the subject, Schaub took one last swipe at Browne.
"I'm just glad he got a break from folding Ronda's laundry to post," Schaub quipped.
Rousey and Schaub were linked in early 2014 and reportedly broke up later in the year. Schaub added salt to the wound by trashing the formerly undefeated UFC women's champ.
"Believe me, I did her a favor, man. I'm not the guy for the job. I'm just not," Schaub said on Joe Rogan's podcast last August. "I'm just not. I'm too much [of a man]. She needs a guy who's gonna take a backseat. That's not me. She also needs a guy that's gonna say, 'Yes, ma'am. Yes, ma'am.'"
Following her defeat by Holly Holm in November, Browne personally led his bruised gal pal through a paparazzi-filled terminal at LAX, and has stayed by her side ever since.
"She's so successful, she's surrounded by people that worship her and go, 'Yes, yes, that's a great idea.' But what I said, 'I don't think that's a good idea,' and now I'm a hater," Schaub said. "I have no financial gain from you. I don't need anything from you, I've earned everything myself."
This article originally appeared in the New York Post's Page Six.