Ricky Martin Sizzles While Glee Starts to Fizzle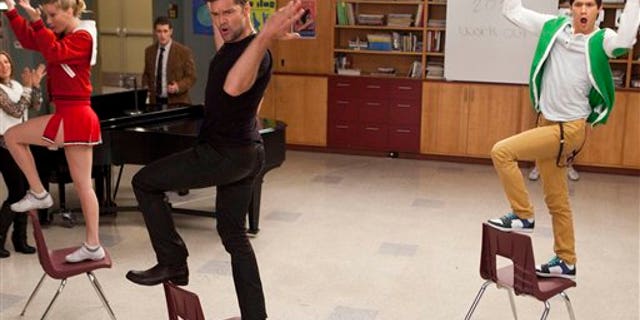 No one can deny that Ricky Martin brought the heat to last night's bilingual Glee episode.
But according to ratings, Glee's popularity has cooled off since last week's 9 million viewers tuned into the show's Michael Jackson tribute.
While Martin could not top the king of pop, the Grammy winner's guest spot did help end the shows recent ratings slump.
Tuesday night's 7.7 million viewers were higher than other lower scoring episodes, which have averaged around 7.2 million viewers since December.
But as we all know, ratings are not the only way to measure a show's success.
With both Martin and his duet of Madonna's "La Isla Bonita" with Naya Rivera trending in the twitterverse Tuesday night, the Puerto Rican's guest appearance has left an impression on the Glee audience.
For the first time since in the show's premiere, Glee's "The Spanish Teacher" episode played true to the Latino cultural, down to the pointy Mexican boots.
Pointy Boots Sweep Mexico Town
This was refreshing since in the past, Glee's portrayal of Latino's has stirred up controversy.
Last year, Gwyneth Paltrows sparked controversy after she played a substitute Spanish teacher on the show who asked the kids if they wanted tacos. Ricky Martin's character, David Martinez, was a true Latino who wanted to help his students learn and embrace the culture and the language.
Fans everywhere will be happy to know that Martin's charachter & his "duende" have been offered to return to Glee.
Hopefully, Martin will be able to steal himself away from his role as Che Guevara in Broadway's Evita to add even more Latino flair to McKinley High.
You can reach Kacy Capobres at:
KacyJayne@gmail.com or via Twitter: @KacyJayne
Follow us on twitter.com/foxnewslatino
Like us at facebook.com/foxnewslatino