Ricky Gervais drops F-bombs, takes on Kardashians at Golden Globe Awards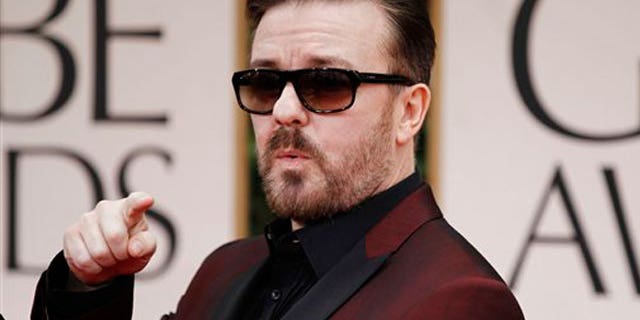 He dropped an F-bomb mid-show, took aim at Kim Kardashian and Justin Bieber and poked fun at his bosses on national television, and yet Golden Globes host Ricky Gervais somehow managed to seem more toned down at this year's show, in spite of the fears of Hollywood's elite.
"Let's get this in perspective: They're the wealthiest, most privileged people in the world," he told Esquire ahead of the big day, referring to celebrities. "Imagine if I had gone out there and said, 'We're all in the same gang. Aren't we brilliant? Us millionaires together.'"
And sure enough, the insults ensued as his duties began. The British comedian kicked off the night by jabbing those the most defenseless - celebrities not present. Or not invited.
"The Golden Globes are to the Oscars are what Kim Kardashian is to Kate Middleton ... A bit louder, bit trashier, bit drunker, and more easily bought -- allegedly," Gervais said in his opening monologue, before later bringing up the reality star's much discussed 72-day marriage to a guy who's name he couldn't remember. "I've sat through longer James Cameron acceptance speeches."
VOTE: Did Ricky Gervais go too far or not far enough?
FOX411: Click here for more of Gervais' zingers and the red carpet stinkers
Justin Bieber was next on the black list.
"Justin Bieber nearly had to take a paternity test. What a waste of a test that would have been!" he continued. "No, he's not the father. The only way that he could have impregnated a girl was if he borrowed one of Martha Stewart's old turkey basters. Open wide."
Keeping pace, Gervais told the crowd that fellow Brit, beloved actor and presenter Colin Firth was actually "very racist" and punches blind kittens, before quipping about the HBO nominated show "Boardwalk Empire."
"It's about a load of immigrants who came to America about a 100 years ago and they got involved in bribery and corruption and worked their way up into high society. But enough about the Hollywood Foreign Press," he said.
He later introduced "Bridesmaids" star Melissa McCarthy by shedding light on her claim to fame in the film: defecating into a sink.
"Amazingly, that's still less demeaning than what most of you have done to make it in show business," Gervais commented.
He also seized the opportunity to make a mockery of stars' stereotyped love of fame and fortune, at the expense of their personal life.
"Last year, our next presenter won both the Golden Globe and the Oscar for her work in 'Black Swan.' This year, she took some time out to have a baby. Consequently, she's been nominated for nothing. Really pathetic," he jabbed. "But she learned that valuable lesson you all already knew: Never put family first. Please welcome the very foolish Natalie Portman."
However, given the Gervais antics of 2011, which caught everyone by surprise, several stars came armed with some sass of their own this time around. "Best Song" winner and presenter Madonna incited the most gasps after Gervais joked about the singer and her 1980s hit "Like a Virgin."
"If I'm still like a virgin, Ricky, then why don't you come over here and do something about it," she boldly declared. "I haven't kissed a girl in a few years... At least on TV."
"Best Actress" Meryl Streep too showed her comedic streak, noting that she scored the job playing former British Prime Minister Margaret Thatcher in the "Iron Lady" when Gervais's "deal fell through." The normally refined and put together veteran actress also had to be the one "bleeped" during the NBC telecast, as she let out a loud "s**t" on-stage after realizing she had left her glasses at her table, and couldn't read her acceptance speech. Streep apologized about the profanity backstage, telling us she "never does that."
However, it seems Gervais's tart-tongue wasn't enough to impress this year, and although he was condemned in 2011 for being "too mean" to his star-studded audience, this year he has been criticized for not living up to last year's s jaw-dropping and ruthless performance, suggesting he was too kind to the big names in the room.
"If somebody told Ricky Gervais not to offend anyone on the Golden Globes telecast Sunday night, it worked," noted the NY Daily News, while the L.A Times called him "respectful and restrained" as well as "surprisingly subdued," Huffington Post surmised that his mild zingers were "boring" and the Associated Press wrote that while Gervais did bring his "sharp tongue," it was simply "not sharp enough."
Winner Kelsey Grammer agreed.
"(He was) too tame! They need to get somebody with a little more fire," he told FOX411's Pop Tarts at the Weinstein Company post Globes party. "Don't pull back. We live our lives being played out in the public all the time and worse things have been said than what I heard last year so you have got to roll with the punches a little."
However, Gervais's kinder approach did get the nod of approval from "Best Actor" winner, George Clooney.
"I thought he did a great job. I think tonight was a much tougher gig because there's so much build-up to it. It's almost like how rough can you go at that point. I thought he handled tonight like a proper good host, again," Clooney told us backstage. "It was fun. People were expecting a lot of trash talk. He did what he does, and he does it well. He makes me laugh." Streep too gave Gervais the thumbs up.
"I thought he did a good job," she said before slipping into the Weinstein bash. "I swore more than he did."
Deidre Behar contributed to this report