REVIEW: 'Darling Companion' is a darling of a film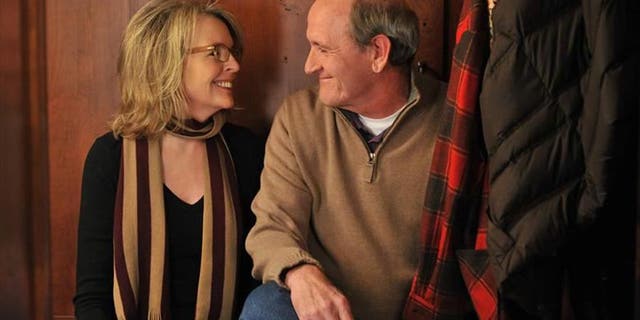 The autumnal Rocky Mountains, a tenacious lost dog named Freeway, and a dream cast share top billing in Lawrence Kasdan's whimsical "Darling Companion," a charming drama about empty nesters re-aligning with family and friends and rediscovering what they hold dearest.
"Companion" plays as a companion piece to Kasdan's situational comedies "The Big Chill" and "Grand Canyon." Like "Grand Canyon," Kasdan co-wrote the semi-biographical film with his wife Meg Kasdan.
Kasdan regular Kevin Kline and Diane Keaton play Joseph and Beth, a couple adrift from each other after years of marriage. After their daughter Garce's ("Mad Men's" Elizabeth Moss) wedding at their vacation home in the Rockies, self-centered Joseph loses their rescued dog Freeway in the woods. Joining the search are Joseph's sister Penny (Diane Wiest), her new hopelessly energetic beau Russell (Richard Jenkins), Penny's son Bryan (Mark Duplass), the exotic and mysterious caretaker Carmen (Ayelet Zurer) and the local sheriff (Sam Shepard).
As the ensemble branches off in search of Freeway, they unearth repressed emotions, desires and regrets, both comical and poignant. Kasdan has chosen an impeccable ensemble of some of today's finest character actors, who appear to be enjoying a working vacation as much as they are making a film.
Kline, having mastered the comedic sleazy character over his career, is graced with maturity here, rounding out his edginess to charming effect. Keaton gives one of her more restrained performances as the distraught Beth. Keaton and Kline compliment each other and provide some wonderful lighthearted, yet dramatic moments.
Diane Wiest and Richard Jenkins are a match made in movie heaven. Jenkins proves once again what a dynamic range he has and sparks fly when paired with the quirky Wiest. The duo provide the biggest laughs and the most heart.
The script offers a number of charming and insightful tug-of-wars between the characters as they argue over their histories as well as whether or not to continue the search for the dog. However, causing more eye-rolls than smiles is the outrageous gypsy caretaker diluting everyone with her "mystical" visions of the lost dog. Each time Carmen concocts some scheme to get the characters to further interact, the film comes to an unpleasant halt before picking back up again.
Featuring beautiful cinematography that captures the natural beauty of the Rockies and a superlative cast, Lawrence and Meg Kasdan's "Darling Companion" is a darling of a film.