'Property Brothers' Drew and Jonathan Scott reveal what's next on their bucket list
Ever since "Property Brothers" premiered in 2011, Drew and Jonathan Scott's names have become synonymous with HGTV.
In addition to their hit series, the brothers have gone on to secure a handful of spinoffs on the network including "Brother vs. Brother" and "Buying and Selling," but as their brand continues to grow, the duo has their eyes set on a particular idea.
"I think a big bucket list item for me and Jonathan is to produce some of our own scripted films and series," Drew tells Fox News.
"As our production company, Scott Brothers Entertainment, continues to expand and we're dominating the unscripted space, we're really excited to move back into scripted," Drew explains.
An exciting moment for the 40-year-old Scotts, who first started out as actors, will be bringing an old script their father wrote in the '60s to life.
"To be able to bring to light this project that he's had in his mind since he was a young man, I think nothing would be more amazing for us than to show him that on the big screen."
For now, the brothers are focused on their latest venture their children's book, "Builder Brothers: Big Plans."
"There are so many kids that enjoy and watch our shows… it's always so exciting for us to see that kids can enjoy real estate design on television, and we wanted to give something to our kid fans — and we thought what would be better than trying to inspire them and inspire their creativity and their wonder by showing them kid versions of us and how we were when we were kids?" Drew explains of their decision to create a book for kids.
"Jonathan and I were always trying to create something new… it's a thank you to all of the kids out there who enjoy our shows."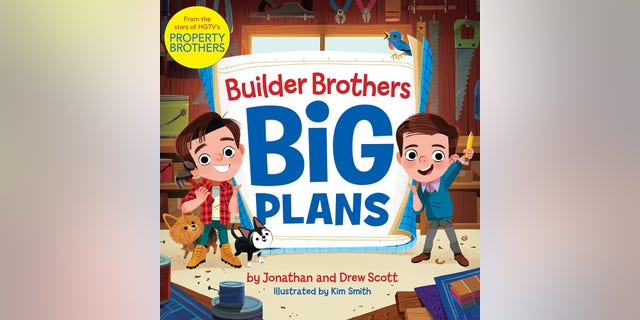 Eventually, the newly married Scott will read the book, which is the first of a series, to his future children with wife Linda Phan.
"I think what we would want to read to our kids, and what we want to read our nieces and nephews is exactly what we want to write and create for any kid out there," says Drew, who along with Jonathan, launched their book collection by teaming up with Lowe's and Heart of America on a makeover of the Harlem Boys and Girls Club.
"We think it's very important that kids have a safe, inspiring place where they can create, they can build," Jonathan explains.
However, as they continue to add more to their plates, Drew admits that when he and Linda, who works with the production company, do have children "it will be tough."
"We're always on the road filming," the real estate agent says, noting that the couple is only home about three weeks out of the year.
"[The kids] are going to have to travel a little bit, but I want to spend more time at home."
And with the help of the Scotts team, that'll be achievable.
"I think the best thing that Jonathan and I have done is ... having really strong people working with us — our work environment and all of our employees and everybody, we're like one big family," Drew explains.
"We couldn't do what we do if it wasn't for the amazing people behind the scenes for all of our shows and our company" he continues, "and having them in place is already going to make it easier for me to start having a family."
As for Jonathan's part? Dating isn't even really a "priority" for the contractor.
"I don't date very much. It's not easy," the reality star says of trying to meet people as a public figure.
"I'll meet pretty cool people through our circle of friends or something like that and you never know. I'm on the road a lot, so it's very difficult to meet people when you're in a different city every three months," he adds. "It's not a priority for me."
Just last month it was revealed that he was offered to be on "The Bachelor."
"Three times. Twice in the States and once in Canada," Jonathan explains of the ABC reality dating series, reiterating: "That is just not my jam."
"I know a lot of people who watch the show, but I cannot imagine trying to wheel 30 women that would be my nightmare and stressful," he says.
"I will focus on one person at a time. That's a lot more palatable for me."