Princess Charlotte starts 1st day of school with new portraits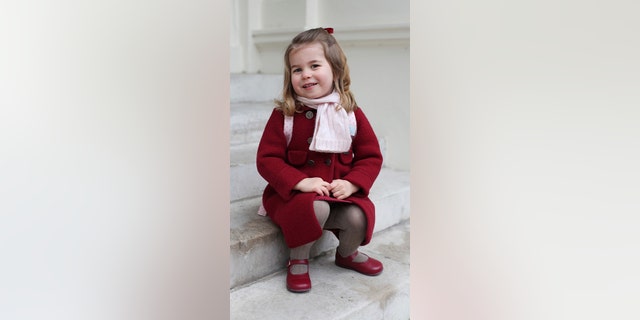 Princess Charlotte has officially started her first day of school.
On Monday, Kensington Palace released two photos, taken by Duchess Kate, of the little Princess posing outside of Kensington Palace, ready to attend her first day at nursey school.
The 2 year-old princess will attend Willcocks Nursery School, which is located near London's Royal Albert Hall, and close to the royal family's home of Kensington Palace.
"The Duke and Duchess of Cambridge are very pleased to share two photographs of Princess Charlotte at Kensington Palace this morning. The images were taken by The Duchess shortly before Princess Charlotte left for her first day of nursery at the Willcocks Nursery School," said a spokesperson for the royal family.
For her first day, the princess sported a red coat by Amaia Kids with matching red shoes and brown tights, and accessorized the look with a red bow, pink backpack and scarf.
Back in September, Charlotte's big brother, Prince George, started at Thomas's Battersea, where it was thought that the young princess would follow.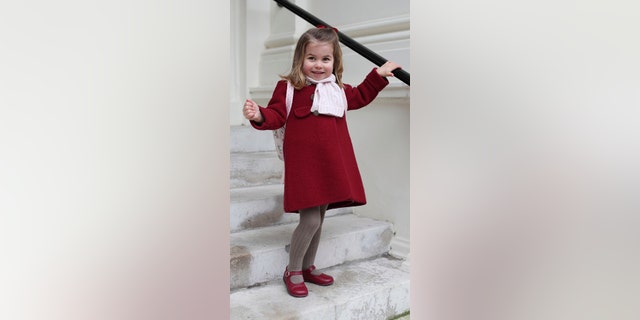 But a source told People that the royal family, "chose [the] nursery because they thought it would be an ideal first step for Charlotte's education and they were impressed by the team who work there."
Prince William accompanied George to his first day of school and stood hand in hand with his son, who posed for photos in his new school uniform outside of Kensington Palace in September.
George also started nursery school at the age of 2 like his sister, but was not a full time student. Unlike George, Charlotte will be a full time student with the spring term beginning Jan. 4 and running through March 27. The nursey education coast about 3,000 pounds a term ($4,000) for students who attend mornings Monday to Friday.
Princess Charlotte turns 3 in May and is the fourth in line to the British throne, after grand-father Prince Charles, father William and older brother Prince George.