Porn Star Suing Charlie Sheen After Plaza Hotel Incident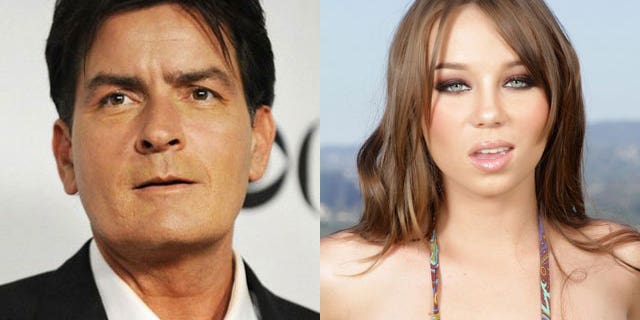 Aftershocks continue from Charlie Sheen's stormy night last month in a Manhattan hotel.
Capri Anderson, the woman who was found locked in the bathroom of his suite, said she's suing the actor for battery and false imprisonment, and plans to file a criminal report with New York City police.
Appearing on ABC's "Good Morning America" on Monday, the adult-film actress said Sheen yelled racial slurs, threw a lamp at her and grabbed her by the throat.
The 45-year-old actor was briefly hospitalized after security at the Plaza Hotel reported he was disorderly and had broken furniture in his room. The "Two and a Half Men" star voluntarily went with authorities for a psychiatric evaluation. He was released from the hospital the same day. His publicist, Stan Rosenfield, said at the time that Sheen had an adverse reaction to medication.
Anderson told "GMA" host George Stephanopoulos that she had been hired for $3,500 to join Sheen for dinner on Oct. 25. She called "absolutely untrue" reports that she expected to be paid for sex.
She said Sheen became increasingly unruly as the evening wore on.
"It's hard to say, being that it was my first time hanging out with him, if it was normal everyday behavior for him," she said.
After dinner at a restaurant, she accompanied the "fairly intoxicated" Sheen back to his hotel suite, where "there was a little bit of romance, if you will."
But in the room Sheen became increasingly agitated, including making racial slurs she didn't specify.
He snorted "a white powdery substance," she said.
"When it became really uncomfortable was when he put his hands around my neck," Anderson said. "At that point things began to very rapidly kind of fall apart and just really get out of hand."
When she attempted to gather her belongings and leave, he threw a lamp and other objects at her, she said.
"Shocked and scared," she locked herself in the bathroom and used her cell phone to call a friend but not police. She explained to Stephanopoulos that she wasn't thinking clearly.
Later, Sheen texted Anderson, offering "a sum of money" she didn't specify for her silence, she said.
In a statement, Sheen's attorney, Yale Galanter, denied Anderson's charges and said she "never made any allegation to the police of any wrongful conduct on the part of Mr. Sheen the night of the incident and she had every opportunity to do so."
The allegations are a "blatant attempt to cash in on his celebrity," Galanter said.
On the CBS series "Two and a Half Men," TV's top-rated sitcom, Sheen plays a character named Charlie Harper, a freewheeling bachelor whose playboy lifestyle is complicated when his uptight brother and the brother's son move in.
Additional details were expected from Anderson on ABC's "Nightline" on Monday night.