P!nk's main goal with new record: 'Just don't suck'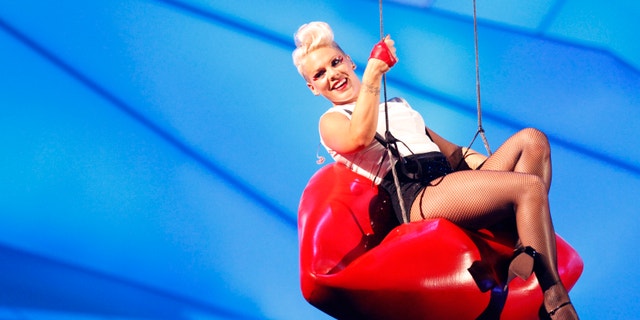 When it came to 90's pop princesses, P!nk was a clear alternative to the Britney Spears/Jessica Simpson/Christina Aguilera pack with her rebellious attitude and tongue-in-cheek lyrics. But fast forward to 2012, and the chart-topping songstress has grown up and out of at least some of that naughtiness.
"I used to be really, really angry and I used to have a lot of demons, and I have exorcised a lot of them through touring and through screaming on stage, and through creating this network of camaraderie of people all over the world," she told FOX411's Pop Tarts while promoting her latest album, "The Truth About Love."
But the biggest influence was giving birth to daughter Willow Sage Hart last June.
"Being a mother, being a parent, it's a cliché for a reason. It softens you, it makes you bigger and it makes you capable of more," she continued. "You just feel more... Instead of waking up and being all 'ugggghhhhh, what do I have to do today?' You wake up and you are like, 'A! B! C! D! E! F! G! H! I! J! K! L! M! N! O! P' and that is your whole day, it is more fun."
And it seems that little one is already looking at a budding music career of her own.
"She is definitely going to be a percussionist. She is nuts, she was there all the time which was fun," P!nk said. "It has made me more thoughtful as a songwriter, but other than that I still have a truck driver's mouth and a really bad attitude."
But despite venturing in motherhood and reuniting with husband Carey Hart after filing for legal separation, she insists that deep down, the edginess that made her famous remains in full-force.
"There's some leftover stuff from the past. We forgive, we don't forget. We were getting back together in the last record so I had to be a little nice. Now I have got him trapped, he is my baby daddy, I can say whatever I want," she added with a smile. "No, I always have something sitting in my back pocket. It is very easy for me to go back to those feelings. My goal was to make sure I still had something to say and make sure I still had fire and passion and wanted to change the world, change things, inspire people and piss people off and push buttons and not to suck. That was number one - just don't suck."