Playboy Features Real 'Jersey Shore' Gals in Photo Shoot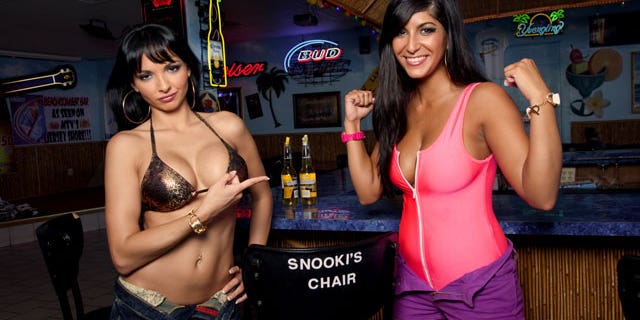 NEWYou can now listen to Fox News articles!
Be careful what you ask for.
That is the lesson New Jersey Gov. Chris Christie may be learning after saying over the weekend that the cast members on MTV's "Jersey Shore" weren't even real New Jersey natives.
"What [the show] does is takes a bunch of New Yorkers… drops them at the Jersey Shore and tries to make America feel like this is New Jersey," Christie said.
Well, if Christie wanted to see "real" Jersey Shore gals, Playboy has what he's looking for, and then some.
SLIDESHOW: The "Real" Jersey Shore Gals.
Four of the Garden State's finest appear in little more than a spray tan on Playboy.com's "Real Girls of the Jersey Shore" photo shoot.
Playboy.com Executive Editor Sam Jemielity told FOX411.com that the fact that the MTV show didn't cast actual New Jersey natives was part of the genesis of the pictorial.
"We're big fans of the show, but we also knew that the cast isn't actually from the Garden State. We were curious to meet some real Jersey girls and find out what they thought of the show and the Shore," Jemielity said.
RELATED: Pauly D Previews 'Jersey Shore' Season 2.
"In a nutshell, the Jersey Shore is a trashy Vegas, as I like to call it. It has no rules and no morals," Allison Torres, 23, of Hillsdale, NJ, told FOX411.com. "There's never any real meals during the weekend except a hangover breakfast and a bottle of vodka. I'm a big advocator of the liquid diet. We love to have our boobs out, stick in our hair extensions, and hook up with hot meatball looking men. Like I said, abandon all morals for the weekend."
Torres has posed three times for Playboy, but says this one was her favorite because she said she got to just be herself. 

"I'm a Jersey girl so everything about it was honest. I wasn't wearing another girl's clothes and pretending to be someone else. Plus I didn't have to cover my tattoos, which is just amazing," Torres said.
Jessica Leigh, of Chesterfield, NJ, agrees with Christie, and says she has been disappointed that the show consistently neglects to showcase the classier aspects of Jersey shore life.
"The show doesn't always show the classier side of the shore. One place I go down the shore is in Long Branch called Avenue and is upscale and very classy, without all the tacky fighting you see in the Jersey shore show in Seaside," she told FOX411.com. "At places like Avenue you see girls and guys dressed up very nice and sexy with bottles of champagne popping all night long."
Leigh also had some lifestyle advice for "Jersey Shore" fans.
"Whether its pumping your fist or popping bottles, we just know how to have fun and make the most of life," Leigh said. "Can't take life to seriously you'll never get out alive! And you bet that in N.J. we don't pump our gas, we pump our fist!"
Leigh is referring here to the fact that New Jersey is the last state in the union that does not allow self-serve gas stations. Something the New Yorkers on the "Jersey Shore" cast probably don't even know!