Pizza driver earns golden buzzer on 'America's Got Talent'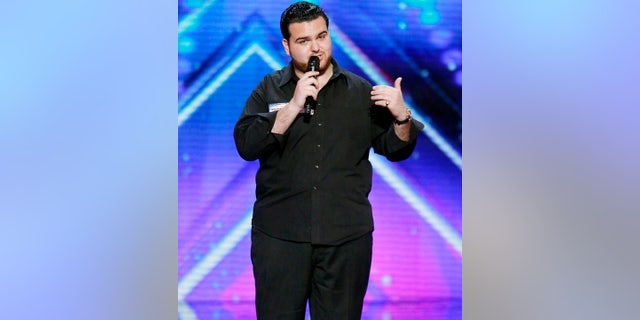 NEWYou can now listen to Fox News articles!
Sal Valentinetti did it his way!
The 20-year-old pizza delivery driver from Bethpage, N.Y. channelled his inner Frank Sinatra to earn the third golden buzzer of the season Tuesday night on "America's Got Talent."
"I didn't come here to try out," he exclaimed before the performance. "I came here to win."
Moments later, his cover of "My Way" received a standing ovation from judges Simon Cowell, Mel B., Heidi Klum and Howie Mandel.
 
"I love the way you talk ... and the way you sing, too," Klum gushed before passing him straight through to the live performance shows, which begin in July.
Valentinetti — who was inspired to sing by his late grandmother — joins 12 year-old opera sensation Laura Bretan and pre-teen folk singer sensation Grace VanderWaal ("The next Taylor Swift") as early favorites for the $1 million grand prize.
"When you want to sing this kind of music, you can't fake it," Cowell said. "It's either in you or it's not. You are an old soul. And I am guessing right now, your grandmother is looking down on you."
Mandel also praised the young crooner: "You really are a good-hearted, lovable guy who has a real talent."
America will also be talking about:
LORI MAE HERNANDEZ
The 13 year-old stand-up comic from Lancaster, Calif. started writing jokes three years ago to cheer up her father, who suffers from Bells Palsy. "My goal was to make him smile again," she revealed in a pre-recorded interview.
The teen easily won over the crowd with her witty one -iners about babysitting — and politics.
"My only qualification to be a babysitter is that I used to be a baby," she laughed. "That's like saying, 'Weren't you the host of reality show? Wanna be president of the United States?'"
RUSSIAN BAR TRIO
This trio of Canadian daredevils first appeared on the show during season three, but had to withdraw due to an injury. The act involves a female acrobat performing flips and other stunts while being flung high in the air with a flexible 10 foot balance bar.
"You had my heart pounding out of my body," Mel B. admitted. "I was so nervous that you were going to fall again like you did 8 years ago and tumble right off the stage."
KADIE LYNN ROBERSON
Kadie, 12, shared her sweet story of being adopted by an older couple for Texas before shredding up Merle Haggard's "Twinkle, Twinkle, Lucky Star."
"When we make these shows it is a bit like we are mining for talent," Cowell told her.
"You dig and you dig and every so often, you find a little diamond. And that is who we found today with you. Your voice is so mature and so real. I have a feeling that in a couple of years time we are going to look back at this moment and say this is the day we discovered Kadie Lynn."
Next week we will get to see who Simon saved his golden buzzer for.
"America's Got Talent" airs Tuesdays at 8:00 PM on NBC.