Pixar's 'Up' Tops Box Office With $68.2 Million Debut Weekend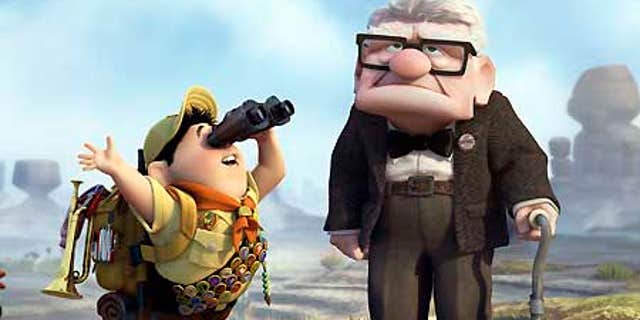 LOS ANGELES – The animated action comedy "Up" took flight with a $68.2 million opening weekend, maintaining a perfect box-office track record for Pixar Animation, whose 10 films all have been commercial and critical hits.
"Up" had the third-best opening for a film from Disney-owned Pixar, just behind the $70 million debuts for "Finding Nemo" and "The Incredibles." Last summer's Disney-Pixar release, "WALL-E," debuted with $63.1 million.
Like its Pixar predecessors, which include the "Toy Story" movies," "Finding Nemo" and "Ratatouille," "Up" earned glowing reviews from critics.
"Usually things that are very popular with audiences don't necessarily go over that well with critics. These things do both, and pretty much consistently every time," said Hollywood.com box-office analyst Paul Dergarabedian. "The Disney-Pixar collaboration is probably the closet thing to box-office perfection out there."
"Up" took over the No. 1 spot from 20th Century Fox's "Night at the Museum: Battle of the Smithsonian," which slipped to second-place with $25.5 million. The "Museum" sequel raised its 10-day total to $105.3 million.
The weekend's other new wide release, Universal Pictures' horror tale "Drag Me to Hell," opened at No. 3 with $16.6 million. It was a relatively modest return for director Sam Raimi, whose three "Spider-Man" movies had blockbuster opening weekends.
Paramount Pictures' "Star Trek" steered a strong course, coming in at No. 5 with $12.8 million and passing the computer-animated "Monsters vs. Aliens" as the year's top-grossing movie so far.
"Star Trek" raised its domestic total to $209.5 million, becoming the first 2009 release to cross the $200 million mark.
"Up" features the voice of Ed Asner in the adventures of a lonely widower who ties helium balloons to his house and flies to a South American adventure with a 9-year-old stowaway.
"An elderly gentleman and a young boy traveling off to South America; it's not your typical animated story and not necessarily the easiest story to convey," said Mark Zoradi, president of Disney's motion-picture group. "That's why I give a lot of credit to the marketing team for taking a movie that wasn't easy to convey to the public and opening it to the highest levels of animation that we've ever done for an original story."
Factoring in higher admission prices, earlier Pixar movies such as "Toy Story 2" and "Monsters, Inc." sold more tickets than "Up" over their first weekends.
"Up" drew both family crowds and adults without children, and the film's 3-D release accounted for 51 percent of the total gross, according to Disney.
Hollywood finished the month with record revenues of $1.02 billion, coming in slightly ahead of the previous high in May 2007, according to Hollywood.com.
Momentum for the year continued to slow from the record pace set in the first four months of 2009. While May revenues came in 4.7 percent above those of May 2008, Hollywood has not yet had a sky-high opening on the order of last year's action hits "Iron Man" and "Indiana Jones and the Kingdom of the Crystal Skull," which both topped $300 million domestically.
Overall weekend revenues were at $167 million, virtually even with the same period last year.
Total revenues for 2009 rose to $4.1 billion, up 13.7 percent. Movie attendance was about 11 percent ahead of last year's.
Estimated ticket sales for Friday through Sunday at U.S. and Canadian theaters, according to Hollywood.com. Final figures will be released Monday.
1. "Up," $68.2 million.
2. "Night at the Museum: Battle of the Smithsonian," $25.5 million.
3. "Drag Me to Hell," $16.6 million.
4. "Terminator Salvation," $16.1 million.
5. "Star Trek," $12.8 million.
6. "Angels & Demons," $11.2 million.
7. "Dance Flick," $4.9 million.
8. "X-Men Origins: Wolverine," $3.9 million.
9. "Ghosts of Girlfriends Past," $1.9 million.
10. "Obsessed," $665,000.