Patton Oswalt on how he and his daughter are coping after wife's death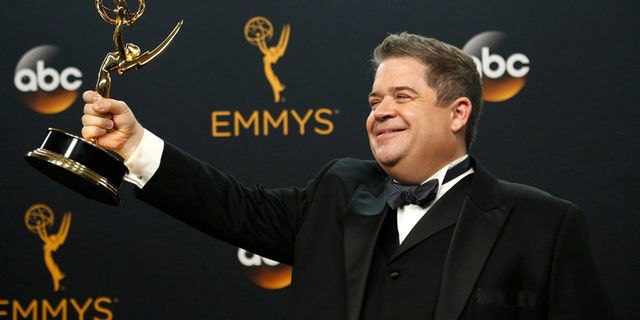 Patton Oswalt is talking about a heartbreaking subject with a little bit of humor.
The writer/actor appeared on "Conan" on Monday, where he talked about how he's coping with the death of his wife, Michelle McNamara. McNamara died in her sleep in their Los Angeles home in April. She was 46 years old.
"I mean, I'm here," Oswalt, 47, told host Conan O'Brien when asked how he's been holding up. "It feels weird to say it -- I'm a widower."
WATCH: Patton Oswalt Shares Powerful Post About Grief, Vows to Finish Late Wife's Unfinished Book
"I'm like every bad 1980s sitcom where there's a dad raising a kid by himself and the mom is somehow ... except my 1980s sitcom sucks, there's no punch lines," he added. "There's a lot of insomnia, there's a lot of me eating Cheetos for dinner. I'm waiting for my daughter to turn to the camera and go, 'No wonder I'm in therapy.'"
The recent Emmy-winner has been focusing on helping his 7-year-old daughter, Alice, deal with the death of her mother.
"She's handling it way better than I am," Oswalt admitted. "Having to tell her her mother passed away is the worst thing I will ... I can't imagine ever going through anything [like that]. Like, when death comes for me, I'm gonna go, 'Yeah, whatever, I've had the worst, bring your stupid sythe and your hood, whatever.'"
Oswalt, who's still wearing his wedding ring, says he's been getting by with the help of his family and Alice's school.
"She wanted to go back to school immediately," he recalled. "Her school, and Michelle's family, and my family basically saved my life those first three months."
NEWS: Patton Oswalt Shares Heartbreaking Wisdom From 7-Year-Old Daughter Following Wife's Death
Earlier this month, Oswalt dedicated his Emmy win for Outstanding Writing for a Variety Special to his beloved late wife.
"Every bit of growth that I've had in my career, especially in my writing and my performing, came because I met Michelle McNamara," the "Veep" actor told reporters backstage. "Because I met and married this woman who just was so much wiser and self-actualized and aware of life than I was. I had convinced myself that I was aware and self-actualized and mature, but then I met the real deal."
"To have that ripped out of my life the way that it has this year -- I'm not trying to say that this is meaningless, but everything seems like the lights have been turned down 50 percent on everything since she's gone," he continued. "It's just going to be a long, long time before I can be the kind of person she made me again."