Pamela Anderson: I Was 'Typecast' for Virgin Mary Film Role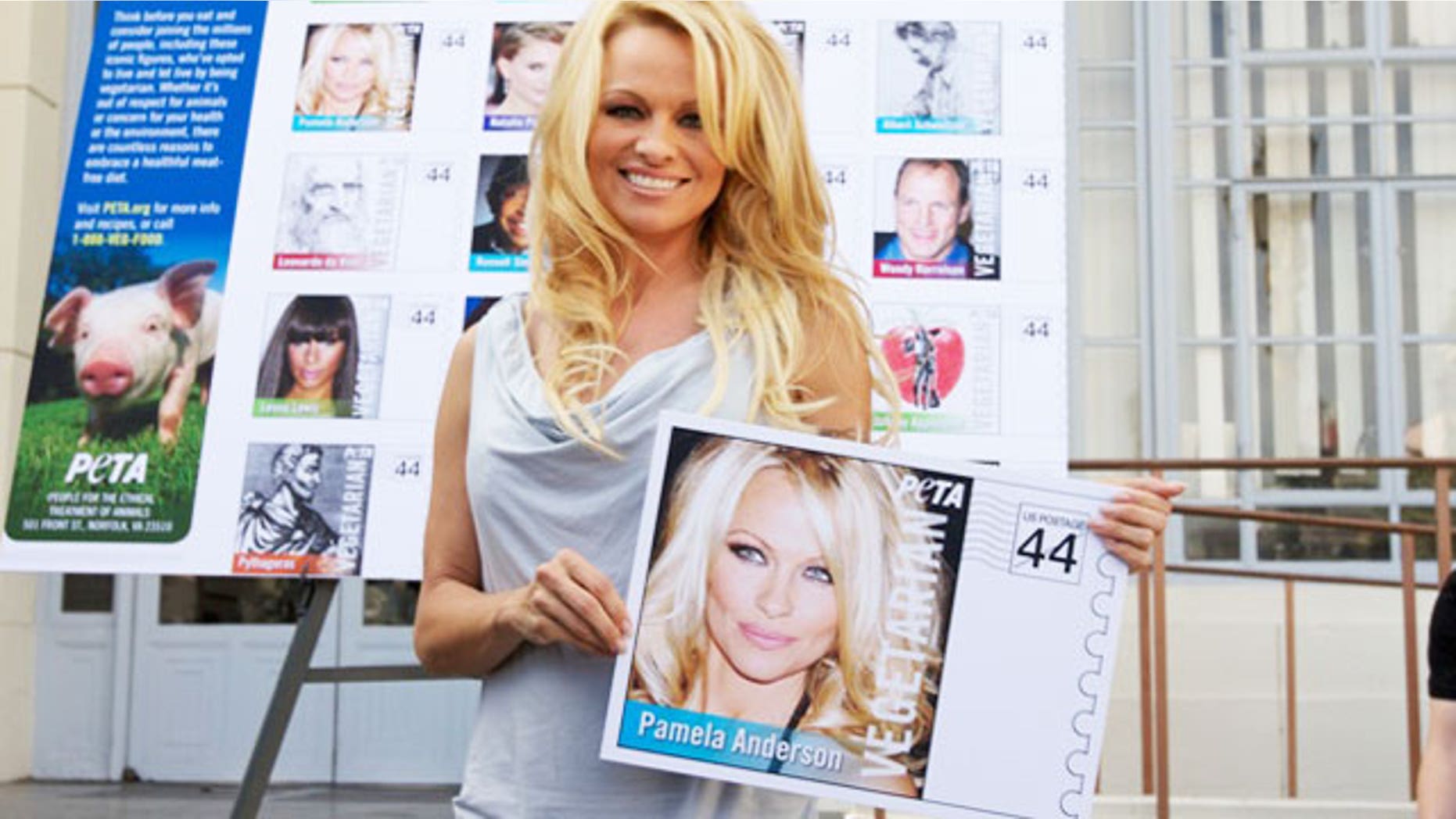 Pamela Anderson recently signed on to play the Virgin Mary in comedian Russell Peters' comedy special. Despite the outcry from groups like the National Catholic Register, who said the casting decision proved that "irreverence is so commonplace that it's now the norm," the former "Baywatch" babe/Playboy playmate/sex tape star claims the role fits her to a tee.
"I've been typecast – again," Anderson laughed to FOX411's Pop Tarts column while unveiling her new PETA stamp, alongside Bob Barker, at the Hollywood Post Office on Tuesday.
The controversy over Pam prompted Peters, who will play the role of Mary's husband in the special which airs Dec. 1, to come out and defend his leading lady.
"I didn't even think about the other side of Pam Anderson, which is so long ago. Let's give a chick a break already," Peters told CTV News. "There's nothing really unholy about it. It's a celebration."
Anderson isn't too concerned with trying to convince audiences she's a virgin, as she says acting isn't exactly her strongest skill.
"I never really considered myself too much of an actress, so it's been nice to kind of lend some meaning to a career which is bizarre and could potentially be not that fulfilling in some ways," she said of her active role with the animal rights organization. "When I was on 'Baywatch' I wrote PETA a letter and asked if I could share all this attention I was getting with something important, instead of just my boyfriends and my boobs! But I think this has really made it more worthwhile for me and it's worked! We've done a lot of great things."
Anderson is so passionate about promoting vegetarianism and saving animal lives that she's getting ready to move far, far away from the glitz and glamour of Tinseltown.
"I have dedicated myself entirely to this cause," she continued. "(And) I really am inspired by Gentle Barn and I think my future is going to be – hopefully – having a ranch and having farm animal rescues."
Sign Up for the FOX411 Entertainment Newsletter.
But for the time being, Anderson is still soaking in the fact that her famous face is now featured on a United States Postal Stamp.
"Can you believe it!? My mom is very proud," she added. "Just to meet Bob Barker, I can't get over it!"
Deidre Behar contributed to this report.