Oscars 2014: Jared Leto's band booked to play gig in Ukraine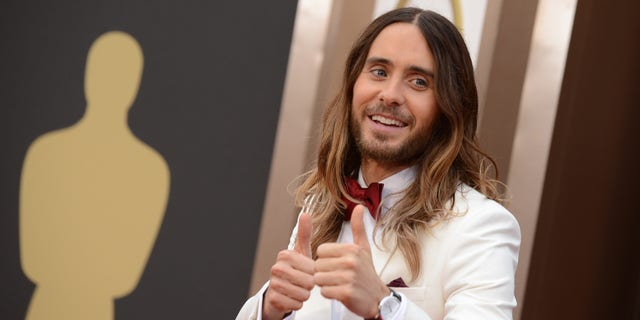 NEWYou can now listen to Fox News articles!
LOS ANGELES – On Sunday evening, Jared Leto became an Oscar winner, taking home the golden statue for Best Supporting Actor for his role in "Dallas Buyers Club." But soon he'll return to his other career as the front man for the band "30 Seconds to Mars," where he is set to perform in some pretty hair-raising territory.
"We have a show in the Ukraine in a couple of weeks," Leto revealed backstage after his big win. "We have a show in Thailand in a few weeks. We had a show in Venezuela in the works. So these things, social unrest, social issues like this affect us in a really immediate way. So I felt on behalf of the people that I interact with (on social media) and my own interests as a person in a global band, it was important to address those things."
As it stands, the Crimea region of the Ukraine is descending into a state of extreme disarray in the wake of a military incursion by Russia. Pro-European protesters have held steady demonstrations against Ukraine President Viktor Yanukovych, who has since fled the country.
(Interestingly, Russia's Channel One did not even broadcast the Academy Awards this year.)
Leto made sure to use his Oscar platform to send a message of support to Ukraine and Venezuela during his acceptance speech.
"To all the dreamers out there around the world watching this tonight, in places like the Ukraine and Venezuela, I want to say we are here and as you struggle to make your dreams happen, to live the impossible, we're thinking of you tonight," he said.
He explained his words in the press room backstage.
"You can make it about yourself or you can hold up a mirror and shine a light, and that is what I chose to do tonight," he said. "Because of the band, I feel at home all over the world. And for me, these global issues impact us in a really direct way."
Follow @holliesmckay on Twitter.