Octagon match: Ronda Rousey confirms rumors she's seeing Travis Browne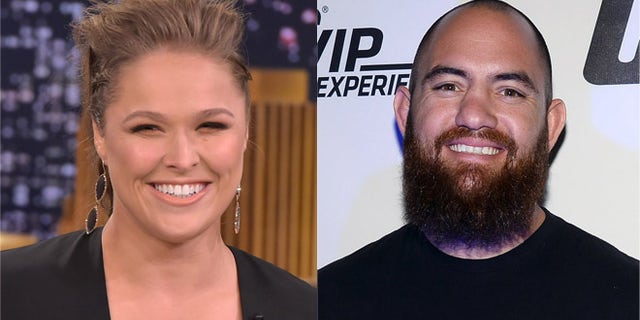 Undefeated UFC bantamweight champion Ronda Rousey is off the market.
The 28-year-old confirmed Monday that she is dating UFC heavyweight Travis Browne.
"I don't talk about my personal life much. That's why it's called 'personal life,'" Rousey told ESPN in a statement. "It's true that Travis and I are in a relationship. I've really enjoyed the time we have spent together and getting to know one another. And that's all I'm going to say about it."
Rousey's confirmation came just hours after Browne opened up about their relationship in an interview with MMAfighting.com.
"Dating is for children," Browne said. "Dating is for kids. Over the summer, through all the s*** that I had to shuffle through, that I had to sift through, Ronda and I started talking throughout the summer, and I'll say now that we are together. She's my woman, and I'm her man. There's no boyfriend, girlfriend stuff. There's no dating. We're together."
He said it's not weird nor has it been awkward that the two are teammates at Glendale Fighting Club in Los Angeles before the started dating.
"It's not something we have to adjust to. We've been doing that the entire time that I was here," Browne added. "She was doing her camps, I was doing mine without that thought process going through our head."
Rumors that Rousey and Browne, 33, were in a relationship started swirling over the summer soon after his separation from wife Jenna Webb, who tweeted about the new relationship.
Browne was recently accused of domestic violence against Webb, but a third-party investigation by the UFC concluded there was no evidence that he had abused her, MMAfighting.com reported.
He said everything going on with Webb did not play any role in getting to know Rousey.
"I see her for who she is. The fact that she's out there winning ESPYs and the star she is on the movie screen and all that kind of stuff, that's all great. But that's not who I know her as, if that makes sense. I know her as one of the hardest working athletes that I've ever seen, in this gym busting her butt on a daily basis," he said.
Adding: "She's a huge star, and that's great for her and I'm happy for her. I want to do nothing but support that aspect in her life."
Apparently this new revelation by Rousey and Browne has caused some concern for Lance Corporal Jarrod Haschert, who asked the UFC fighter to his Marine Corps Ball.
He told TMZ on Monday that he hopes she doesn't back out after accepting his invitation earlier this summer.