NY fashion show held in Brooklyn Navy Yard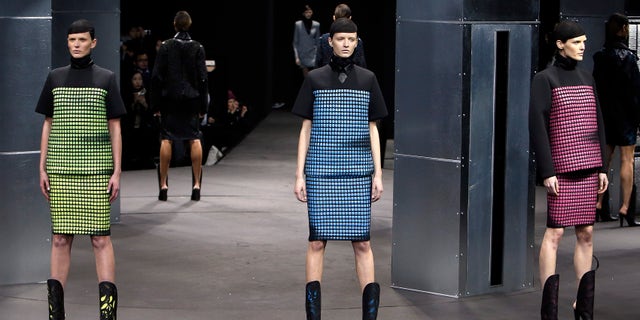 There are hip fashion shows. And then there are fashion shows that seek nothing less than to redefine just how hip a fashion show can be.
How else to describe a designer who can get crowds of the most discerning fashion to leave Manhattan on a frigid Saturday night in February and head to Brooklyn — to the Brooklyn Navy Yard, yet — for a 15-minute fashion show?
That would be Alexander Wang, 30, who presented the fall 2014 collection of his signature line (he is also creative director of Balenciaga in Paris) at a 100,000-square-foot greenhouse at the navy yard, a huge space that provided a dramatic backdrop to his inventive fashions. The production involved a rotating stage that moved the models around, and a futuristic-looking set that resembled some post-apocalyptic world.
The design label, perhaps knowing that many guests would feel reluctant to leave Manhattan, particularly after running from show to show all day long, provided free ferry boat service to Brooklyn and back, and also chartered buses.
In a post-show interview, Wang explained that he felt a duty to raise the bar and keep experimenting.
"Fashion is always evolving and changing, so why not have a location change?" he asked. "With every kind of change there is opposition, but I think that's the exciting thing ... to keep the conversation new."
And, he said, fashion and theater go hand in hand. "For me it's part of the process," he said. "You want to create an experience. Clothes are clothes, at the end of the day. You're not reinventing the wheel there. So you want to be proposing an idea that entertains people — and gets them to come out to Brooklyn in the cold. There are so many fashion shows on the calendar, it's important to create that individual moment between you and the audience."
The clothes were an unusual mix of simple and elaborate, based on the theme of survival. "The great outdoors, camping, mountain climbing," Wang explained. But there was also a theme of sophisticated luxury. There were thus some big and comfy jackets, for example, but in luxe fabrics, like cashmere. There were tunic dresses made with the silky fabric of men's ties. Many of these garments came with multiple pockets — the better to hold all those things you need for survival.
In designing accessories, Wang said, the guiding question was, "What does our girl need to survive in an urban landscape? Her cigs, her lighter, her flask, her notebook, her smartphone. In some of the bags we had a lipstick holder, a hand mirror and a compact."
Before the show, guests commented on how runway shows are getting more and more spread out across the city this Fashion Week, making it even more challenging, and Wang's show was the ultimate example. "He wins the prize for the most out-of-the-way show, that's for sure," quipped Nina Garcia, the longtime judge on "Project Runway," who was in the audience.
One celebrity attendee — actor Sam Worthington, of "Avatar" and its upcoming sequels — said he was happy to come out to Brooklyn.
"A lot of people got annoyed," he said, "and some might argue that Brooklyn isn't part of New York, but I don't agree." Worthington explained that he had met Wang in a chance encounter, sitting next to him on a plane.
"He's at the forefront, pushing the limits of New York Fashion week," said Worthington.
When it was over, and the last ferry had left for Manhattan, perhaps the only disappointment on the hipness scale was that Kanye West hadn't shown up as expected.