Nick Cordero's wife says he 'spiked a fever,' had a 'rocky night' while recovering from coronavirus
Nick Cordero's battle with coronavirus took yet another turn.
The 41-year-old stage actor was hospitalized for COVID-19 in March and has been in medical care since, having undergone a long list of ailments that includes lung infections, mini-strokes and the amputation of one leg.
Cordero recently received a round of stem cell treatment in an attempt to combat the illness.
NICK CORDERO RECEIVING STEM CELL TREATMENT DAYS AFTER WIFE WAS TOLD HE MAY NOT SURVIVE CORONAVIRUS FIGHT
On Tuesday, Cordero's wife, Amanda Kloots, offered an update on the actor's health, revealing there had been a small hiccup.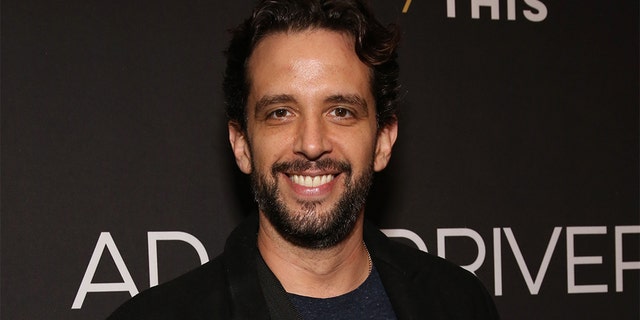 "[Cordero] had a little bit of a rocky night list night, spiked a fever and they had to do a little bit of fixing of that and antibiotics," said Kloots. "Luckily, everything is back to normal today and that was just a little blip."
Kloots reiterated that Cordero is "back to normal."
NICK CORDERO FIGHTING 'NEW LUNG INFECTION' AMID CORONAVIRUS BATTLE, WIFE REVEALS
"Thinks are going –­ I think –­ good and he's stable," said the fitness guru. "They'll probably be looking into doing another CT scan of his lungs to see what kind of progress or if there's further damage in his lungs."
She also said that doctors are considering a second round of stem cell treatment for Cordero.
In a previous Instagram post, Kloots offered a detailed list of the obstacles Cordero has faced recently due to coronavirus.
"Since [his hospitalization,] has he has suffered an infection that caused his heart to stop, he needed resuscitation, he had two mini strokes, went on ECMO, went on dialysis, needed surgery to removal an ECMO cannula that was restricting blood flow to his leg, a faciatomy to relieve pressure on the leg, an amputation of his right leg, an MRI to further investigate brain damage, several bronchial sweeps to clear out his lungs, a septis infection causing septic shock, a fungus in his lungs, holes in his lungs, a tracheostomy, blood clots, low blood count and platelet levels, and a temporary pacemaker to assist his heart," the post read.
CLICK HERE TO GET THE FOX NEWS APP
Cordero has been in medical care for nearly 70 days.