Nick and Lauren Carter learn sex of their baby on 'Dancing With The Stars'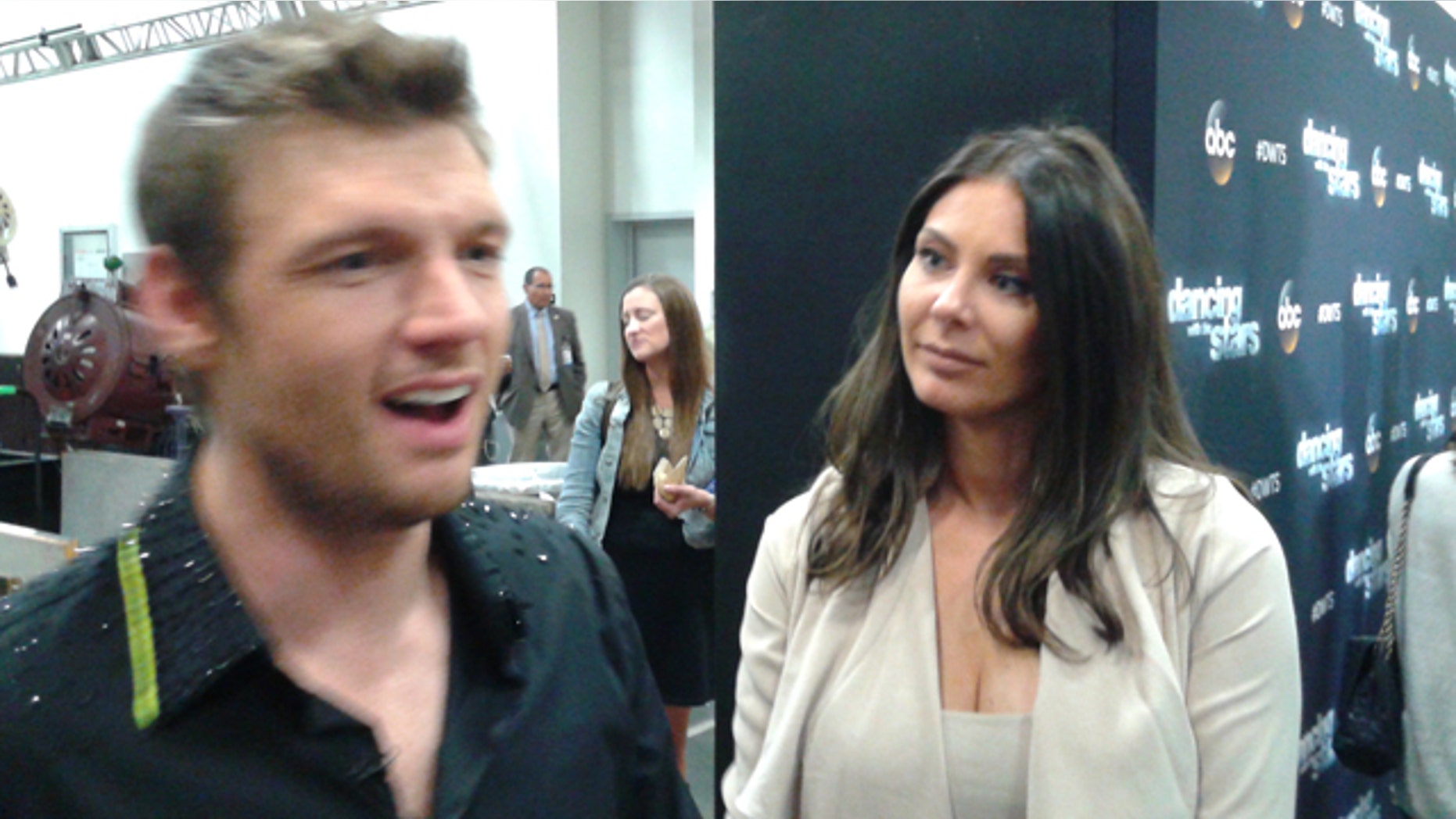 Backstreet Boy Nick Carter delivered a perfect performance on Monday night's "Dancing with the Stars" before he and wife Lauren learned the sex of their baby during a live on-camera surprise.
Carter scored 30 points for his emotional contemporary dance with partner Sharna Burgess that was dedicated to his wife. During their TV package, Carter revealed he and Lauren were pregnant with their first child after previously suffering a heartbreaking miscarriage.
Post-performance, hostess Erin Andrews suddenly told Carter and Lauren, "We're going to reveal the sex of your baby."
She opened a big silver box and out floated a slew of blue balloons as a sign announcing "It's A Backstreet Boy" was projected behind the hugging couple.
After the show, Carter told reporters, "We're so excited [and] happy and Lauren really wanted a boy. I didn't have a preference."
Carter confided that the couple have some names they're considering, but "I don't want to give 'em out yet."
The Backstreet Boy told FOX411 they had no idea the sex of the baby was going to be revealed on camera. "We did not. Obviously we brought the cameras for the [TV] package to [show] the ultrasound [but] the show knew before we did. We let that happen."
Carter, who had been trying to have a baby with Lauren for a year, let his emotions run free during icons week, in which the celebrities made their performances about people who inspired them. Of course, the only choice for the singer was the woman he married last year with whom he's gone through so much.
Carter told FOX411 of the miscarriage, "It was hard, especially for Lauren, the things that she personally went through. Sometimes it's hard for a man to even understand and hopefully it will be cathartic to a certain degree."
Lauren, who is now 16 weeks along, said, "It's been a tough journey the entire time" but she's feeling great about a successful pregnancy.
She told reporters she was "shocked and flattered ... and felt immensely loved" after Carter's dance dedication.
"My goal was to deliver a performance that could be frozen in time so that when my child goes back, he says, 'Well, dad really loved mom and he did that for her and for me,'" Carter said. "When you're in love and you really care about someone and they've done nothing but be the best thing for you and made you a better person, you want to just stand on the mountaintop and scream it out loud."
The boy band veteran, who has admitted having problems with his famous family, noted backstage that having a baby will give him "an opportunity to right the wrongs, do better than past situations and I feel comfortable and safe because I know my wife will be a great mother ... together, with our love, we'll be able to create a child that has nothing but love and dreams."
But he wasn't the only one having an emotional time on Monday, as Alek Skarlatos' fellow train heroes Spencer Stone and Anthony Sadler cheered him on from the "DWTS" audience.
The two watched Skarlatos score 25 for his contemporary dance with Lindsay Arnold that honored his icon, "America Sniper" Chris Kyle.
Stone, who was hospitalized after being stabbed in a bizarre Sacramento fracas last month, told FOX411 after the show, "I'm doing good. I'm walking, I'm alive. I can't ask for much more. I got out of the hospital a couple of weeks ago. I've just been at home recovering, trying to get better. It will take awhile but I'm getting there day by day."
Sadler told FOX411, "Alek did amazing. He survived another week. I've been hanging around all day ... they have a lot of fun here. I wish I was in it, too."
Previous high scorers Bindi Irwin and Tamar Braxton weren't far behind him, as both got 28 points for their individual dances.
While Irwin dazzled in a foxtrot dedicated to her icon, the late movie legend Grace Kelly, Braxton was praised by judges for her Paso Doble that paid tribute to her sister Toni.
Braxton and her partner Val Chmerkovskiy were horrified when rehearsal footage from last week showed her saying she was "probably the best dancer in the competition," a segment they felt was taken out of context. In clips that aired on Monday, Braxton explained she has to tell herself that to keep motivated — and actually, she often suffers low self-esteem.
Backstage, she told reporters she does nothing but "come out here and work hard and have fun with my wonderful partner."
Meanwhile, the show's married couple, Alexa and Carlos PenaVega, earned 25 and 27 points, respectively, for their individual dances. Alexa and partner Mark Ballas did a David and Goliath themed dance in which she made a couple of mistakes.
She sighed backstage, "It's tough 'cause I felt focused, I felt determined. Mark asked me afterwards, 'What happened. Did you get nervous?' ... I can't actually answer that ... I've been on this roller coaster ride."
The show also featured a "dance off" in which the couples were paired off two by two and had to perform the same style of dance side by side. Singer Andy Grammer, who was later eliminated, made his co-stars and the judges laugh by giving up on planned salsa moves and doing a handspring -- and "the worm"--instead!