New Spike Lee documentary pays tribute to Michael Jackson's genius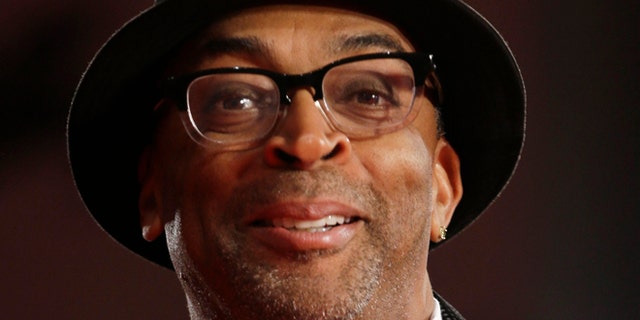 VENICE, Italy – Michael Jackson is bathed in light, his arms outstretched and head back, as if crucified, at the end of Spike Lee's documentary "Bad 25" -- a fitting image for the late pop legend who to some extent basked in fame, but was also clearly tormented by it.
Lee calls the documentary "a love letter" to Jackson. It made its Venice debut on Friday, the 25th anniversary of the blockbuster album's release.
"I think it's amazing that here we are in Venice for the world premiere of "Bad25" on the exact date 25 years ago the album was released," Lee told a group of journalists ahead of the premiere.
Lee was commissioned by Sony and Epic records to make a documentary for the anniversary, gathering interviews with collaborators on the album: dancers, choreographers, song writers, short film directors, back-up singers, sound technicians and friends.
'"Bad' has been overlooked because it is the album that immediately came after Thriller, which is the best selling album of all time," Lee said. "Also 'Bad' was when Michael really started to flex his muscles creatively. He wrote nine of the 11 songs."
The collage of recollections lifts the lid off mysteries like who was Annie, as in 'Annie are you O.K.' in "Smooth Criminal" (Annie is the name of all CPR dummies) and why Jackson sings "Shamon" on the "Bad" title track (a tribute to blues singer Mavis Staples.)
Jackson, we learn, also never used the term "music videos." They were short films, and Martin Scorsese comments on "Bad," which he directed. Shot in Harlem and a Brooklyn subway station in New York City, it marked Wesley Snipes' film debut and was designed to give Jackson street cred.
Lee said he was drawn to the project because of its focus on the music, and away from the media frenzy that surrounded him, the perceived eccentricities and misconceptions.
"Let's focus on his genius. Let's focus on his music. Forget the other stuff," Lee said.
The documentary argues strongly for Jackson's genius, highlighting his achievements as a singer, songwriter, producer, performer, dancer and fashion trendsetter.
And it documents his attention to detail and hard work. Lee discovers a sketch Jackson made of the costume for "Smooth Criminal," including the armband and a handwritten note to himself: "Study the Greats to become great." His vocal coach talked about Jackson's range of more than 3 1/2 octaves, and dancers about how he worked into the night to come up with fresh moves for videos starting with "Bad."
"For me there were no discoveries, it reaffirmed what I thought I knew. He worked hard. Michael busted his ass," Lee said.
"Bad25," shown out of competition in Venice, will be released in February, along with another hour of behind-the-scenes footage.
The documentary's final image is taken from film of his famous July 16, 1998 concert at Wembley Stadium in England of the "Bad Tour." Jackson finishes singing "Man in the Mirror" -- a song that has become posthumously Jackson's unofficial anthem -- and throws back his arms and head in a final flourish.
"I am not going to say Michael was Jesus Christ," Lee told a news conference at the festival. "But if you look at the performance, he was somewhere else. That was one of the greatest performances, ever, ever, ever. He is not of this world."