New 'Roseanne' trailer addresses huge plot hole: 'I thought you were dead'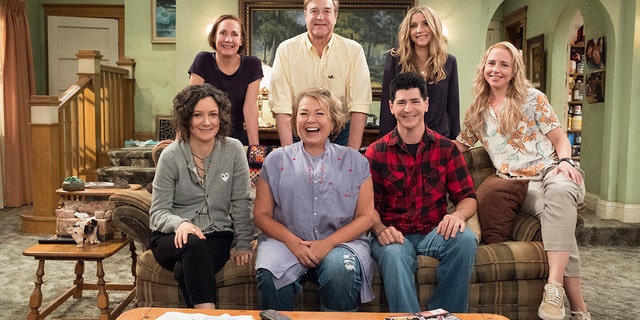 A newly released trailer for ABC's "Roseanne" reboot teases Dan Conner's mysterious death.
E! released a new trailer for the highly anticipated reboot that featured the cast of "Roseanne" on the show's set at a table read. The cast of Roseanne Barr, Laurie Metcalf, John Goodman, Lecy Goranson, Sarah Chalke, Michael Fishman and Sara Gilbert burst into laughter after Barr and Goodman read their first dialogue exchange.
"Dan!" Roseanne yells in the clip.
"What?" Goodman replies.
"I thought you were dead," she answers with laughs from the cast.
It's no secret that Goodman's character is back on the show for the reboot, but viewers of the original series, which went off the air in in 1997, know Dan to be dead after Roseanne. The end of the show killed his character off.
Goodman shared his opinion on his character coming back to life at the 2018 Television Critics Association's Winter Press Tour.
"I didn't really care," Goodman said of how the show would address his character's death.
Without giving away details of how it was done, he said, "I thought it was a clever way to do it — to handle it and get it out of the way."
Another new plotline in the series features Roseanne as a Trump supporter. Barr said she decided to make her TV character a supporter of Trump because it was "realistic."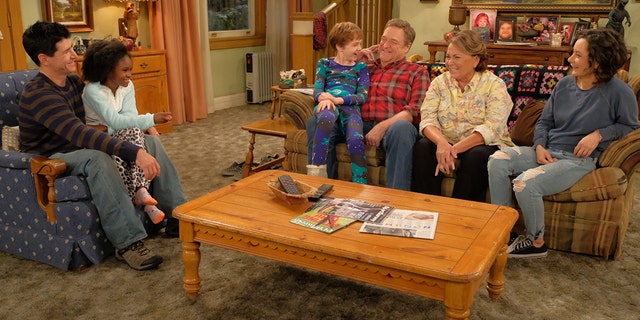 "I have always … attempted to portray a realistic portrait of the American people and working class people," Barr said at the Press Tour during a Q&A. "And, in fact, it was working class people that elected Trump so I felt that was very real and something that needed to be discussed."
ROSEANNE BARR DEFENDS DECISION TO MAKE TV FAMILY PRO-TRUMP
The actress also defended her choice to vote for Trump when pressed on the issue.
"I think it was time for us, as a country, to shake things up and try something different," she said of electing Trump.
Barr said she supports the president — though she may not agree with everything he says.
"He says a lot of crazy s--- but I mean… I'm not a Trump apologist. There are a lot of things he has said and done that I don't agree with," she said, noting that many people who voted for Hillary Clinton likely felt the same way. "It's always the lesser of two evils and we always have to face our own conscience of how we deal with that."
When the show's Executive Producer Bruce Helford explained the show's political views, he said, "There's no agenda."
"Roseanne" debuts on March 27 on ABC.
Fox News' Leora Arnowitz contributed to this report.