Neil Patrick Harris shows off shaved head at 2016 Tony Awards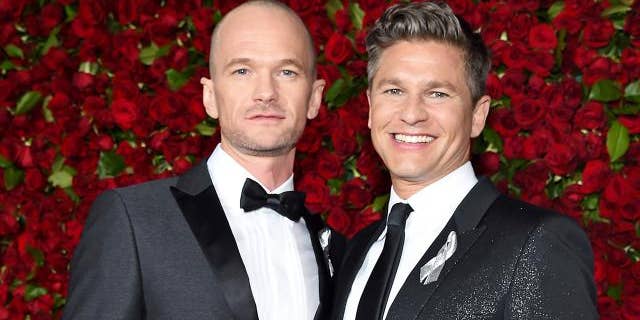 NEWYou can now listen to Fox News articles!
Where better to debut a dramatic new hairstyle than at a night honoring theater? Tony Awards staple Neil Patrick Harris stepped out on Sunday night looking drastically different with his newly shaved head.
Harris could have been sporting the new look for his upcoming role as Count Olaf in Netflix's "Series of Unfortunate Events" adaptation. In fact, in mid-May, Harris took a photo with "Hamilton" creator and star Lin-Manuel Miranda wearing a hat.
WATCH: LGBT Groups, Celebs and Public Figures Pay Tribute After 50 Killed in Orlando Nightclub Shooting
"It hides my Olafiness," he tweeted at the time.
The former Tonys host attended the event with his husband, David Burtka, and presented the award for Best Actor in a Musical to "Hamilton" stand-out Leslie Odom Jr.
Prior to the annual awards show, Harris tweeted, "So honored to have been a part of the @TonyAwards2016 and @HamiltonMusical's historic night. Great to be in the room where it happened."
The show took place hours after a horrific shooting in Orlando in which a gunman targeted the gay nightclub Pulse, taking 50 innocent lives.
WATCH: EXCLUSIVE: Lin-Manuel Miranda, Zachary Levi and Other Tony Stars Weigh in on Orlando Shooting
As a noted member of the LGBT community, Harris tweeted his condolences following the shooting.
"The tragedy in Orlando is just beyond sad," he wrote. "My deepest regrets to all those suffering. There are no words that suffice. I'm…stunned."