NBC execs knew about Lauer's sexual misconduct but did nothing, report says
NBC News' higher-ups reportedly knew about Matt Lauer's inappropriate behavior and received previous complaints about it but did nothing because the atmosphere at "Today" was a "boys club," a report claims.

Sources told The New York Post that NBC News' top executives, including previous NBC News chiefs Jeff Zucker and Steve Capus, NBC News President Noah Oppenheim and Chairman Andy Lack, were aware of Lauer's sexual misconduct and knew about the complaints.
A current "Today" show employee told The Post: "Everybody at NBC knew about Matt Lauer's sexually inappropriate behavior — and knew not to talk about it."
"Women did complain about his behavior, and there were a lot of closed-door meetings before it was all brushed under the carpet," the source continued.
An NBC insider told the newspaper Oppenheim and Lack "knew of the investigations into Matt's behavior and tried to negotiate."
MATT LAUER TO SANDRA BULLOCK IN 2009 INTERVIEW: 'I HAVE SEEN YOU NAKED'
The insider said Don Nash, the "Today" show's executive producer, and Jim Bell, the former executive producer, were "concerned about keeping Lauer happy."
"The show was a total boys' club, even despite it having a very large female staff," a source said.
But Nash denied that claim stating, "Never once has any woman or man come to me complaining about Matt Lauer. If they had, I would have gone straight to HR. "
An NBC executive alleged Bell instigated Lauer's reported lewd behavior during the Olympics.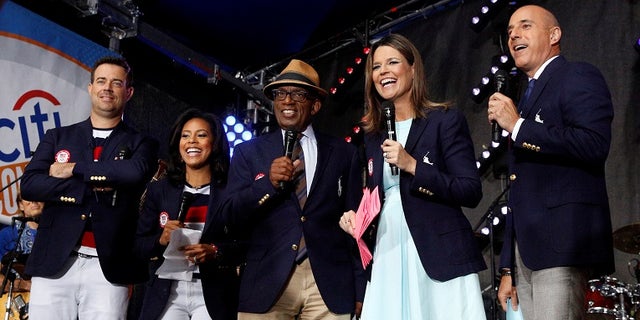 "It was always made out that these affairs were consensual, a joke about how many women had slept with Matt or had affairs with him. It was never suggested that the women were victims," a source stated.
A different source told The New York Post women did report Lauer's inappropriate behavior but were afraid of their career being ruined.
"They complained, and nothing was done," the source stated.
Other sources told The Post that besides NBC's top execs knowing about Lauer's behavior, his "Today" show co-hosts were also aware.
"All the women on air knew. Al Roker knew. They feared Matt," a source told Page Six.
A former "Today" show employee said it was "insulting to see the pretend shock on the faces of the people at 'Today' after Lauer was fired."
NBC'S SAVANNAH GUTHRIE SLAMMED FOR 'DISRESPECTFUL' INTERVIEW OF SEX HARASSMENT ACCUSER
"The last few years, as well as the many years before, Matt controlled all of the women on the show and had all the men bowing and scraping to him," the source continued.
The employee also said it was common knowledge Lauer would have multiple affairs with women.
"For Matt, some women on the show were just a one-time thing, and he never spoke to them again. Other women he had affairs with. And others he just picked up and disposed of when he felt like it," the source stated.
Lauer was abruptly fired by NBC News Wednesday due to "inappropriate sexual behavior" reported by a colleague. Variety published an expose on the same day of Lauer's firing detailing the alleged sexual misconduct allegations against him.
Lack, Capus and Zucker denied knowing about Lauer's alleged inappropriate behavior.