'Nashville' recap: 'Dancing With The Stars' pro goes country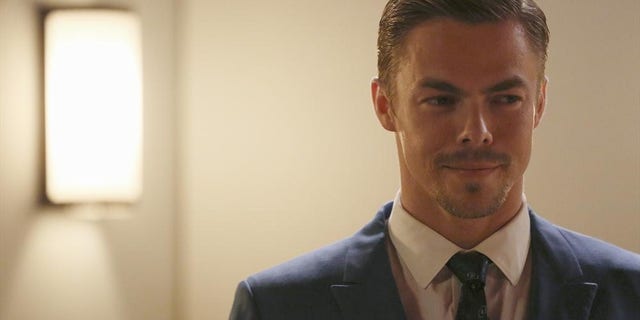 Derek Hough of 'Dancing With The Stars' has joined the cast of 'Nashville' for what is supposed to be a multi-episode arc. While his character, movie star Noah West, didn't show off any of the dance moves that made Hough famous, plenty of sparks flew between him and Juliette Barnes.
After a successful screen test, Noah took the country star out to celebrate. While a bun in the oven prevented Juliette from taking a sip of the celebratory shots he downed, it didn't stop Noah from planting a kiss. She rebuffs his advances, but the two bond later bond over love they've lost. Hough is slated to appear in more episodes so this clearly isn't the end for them, which may be good for Juliette, who can use all the friends she can get.
Avery won't answer her calls, Deacon has too much on his plate and after finding her manager and assistant rifling through her things (her erratic behavior made them assume she was on drugs), she kicks them both out of her home. Pregnant and alone, she decides to put her best foot forward and show up to Avery's apartment. From her car she watches, heartbroken, as Avery arrives home with a drunk blond on his arm. Where will she go from here?
Avery met the blonde in question at a barn party Zoe and Gunnar had talked him into playing. It's now been three full episodes of drinking and debauchery for Avery, but it looks like his hangover is beginning to kick in. He kicks out the blonde stranger before they take things to the next level and tearfully plays a song he wrote about Juliette.
Also at the barn party? Fourteen-year-old Maddie, who decides to take a break from her usual routine of heavy sighs and eye rolling and head straight into teenage rebellion. She even rocks tiny short shorts that her father forbid her from wearing outside the house! Unfortunately for Maddie, the act only lasts for a few sips of hard lemonade before she gets caught by cousin Scarlett.
Scarlett, who is attending the party after being told by her boss she needs to learn how to have fun, completely ignores the assignment and drags Maddie out of there. The two have a heart-to-heart on the ride home and Scarlett, who doesn't seem to find it at all odd that she relates more to her teenage cousin than any of the adults in her life, decides to forget writing songs about fun. She's going to write songs about self-esteem instead, boss's orders be damned!
Someone else who could use a little more self esteem? Poor, closeted Will, who's getting bullied by his wife and has had his hit single slip down to number five on the charts. Layla tries to force her way into performing with him, but record label head Jeff Fordham is not having it. When he thwarts her attempt to perform with her husband, Layla tells Jeff he needs to make her a star or she'll out Will to the masses. Between the blackmail, the secrecy and his continued fall down the charts, Will is feeling stressed. By episode's end, he ends up in the locker room engaging in a very "personal" work out with his trainer.
Rayna and Luke, now known to the press as "Ruke", are having trouble nailing down a wedding date. When Rayna suggests postponing the wedding due to Maddie's objections, Luke takes it personally and blames Deacon for standing in the way again. Eager to fix the mess, Rayna makes a grand romantic gesture by getting on a private plane and surprising Luke at his show. After he performs the song he wrote for her, she suggests they move the wedding to December and then combine and rename their tour. Luke is ecstatic, but Deacon is not going to like this latest development.
Rayna returns to Nashville and is met with a big surprise sitting right on her door step. A tearful Juliette tells her she didn't know where else to go and hands her a picture of the sonogram.