NASCAR veteran Mike Wallace, daughter brutally attacked after Rascal Flatts concert
Three men reportedly were arrested and charged in the beating of NASCAR veteran Mike Wallace and his daughter after a Rascal Flatts concert in Charlotte, N.C., Friday night.
Nathan Lucas and Randolph Mangum were charged with assault Saturday morning and a third man, Paul Lucas, was charged with assault on a female. A spokesperson for the Charlotte-Mecklenburg Police Department confirmed to FOX411 the three men were arrested but would not comment further.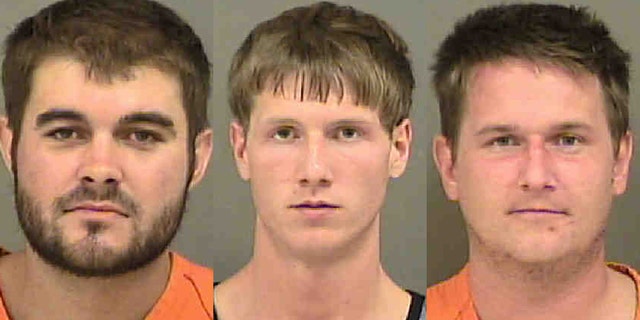 Wallace told WSOC-TV that as he was leaving the concert, he saw a man in a truck screaming. He asked him what was wrong and the next thing he knew he was "getting punched in the face."
"When they did hit me, it knocked me out," he said. "I was on the ground, I could feel myself getting beat, but I couldn't feel the intensity of it."
Wallace was left bruised and blooded with a black eye and his front teeth knocked off. When he came to, he said he saw his daughter lying on the floor. Family members told him the entire incident lasted 15 minutes.
Wallace shared graphic photos of himself after the alleged incident on Facebook.
"I normally would not post personal affairs but this is to help and give advice to our friends, do not ever talk to a group of now what appeared to be drunk or drugged up young adult men or women when you're trying to get in your car to leave the un guarded PNC amphitheater in Charlotte, NC parking lot after a good Rascal Flatts concert," he wrote. "This is what I looked like after I was knocked out and crap beat out of me. The ambulance driver took this picture we were just supposed to have a fun night. I want to thank my family and friends for helping to protect me from a worse beating as I [laid] unconscious on the ground."
He added, "What's worse is three of guys that beat my family up were arrested and out of jail before we were out of the hospital."
Wallace's brother Kenny told USA Today, "I talked to Mike a couple times this weekend, and he's just in shock. He can't believe it happened."
A rep for Rascal Flatts, who have yet to speak out on the incident, did not return FOX411's request for comment.
In 2014, following a string of alcohol-related incidents at country concerts, Rascal Flatts' lead singer Gary LeVox told FOX411 Country "these sort of things happen periodically every year and normally in the summer time.
"I think when you're outside in the heat and people are out drinking and listening and having a good time, I think they don't know when to shut it down before it's too late."
Rascal Flatts said that in their shows they make sure to call over security if they see a fight break out or someone who needs medical assistance.
"I also think that if you're at one of these shows, and you see something that looks suspect, I know people don't like to get involved, but you know, sometimes it behooves us to walk up and say, 'Hey what's going on here? We need to take care of the situation.'"